Référence SKU: 231-052
Regular price
$165.00 USD
Regular price
$165.00 USD
Sale price
Unit price
per
Simultaneously measures four probe temperatures
Audible alarm and customizable high/low setting
Wide temperature range -99.9 to 1372°C
Waterproof housing provides IP67 protection
Protective case included
Sold without probe
2&nbsp produits en stock
View full details
Informations sur ma livraison
Processing time if product in stock
-
Orders are shipped within one business day.
An order placed on Monday will be shipped on Monday or Tuesday.
An order placed on Friday will be shipped on Friday or Monday
An order placed on Saturday will be shipped on Monday.
Processing time if product not in stock
+
If the products are not in stock, the delay is generally 3 to 4 weeks . We invite you to contact our sales representatives to obtain the exact deadline.
Delivery times of our carriers
+
Relay point : 3 to 5 days of transport.
Standard : 2 to 3 days of transport.
Express : 1 day of transport.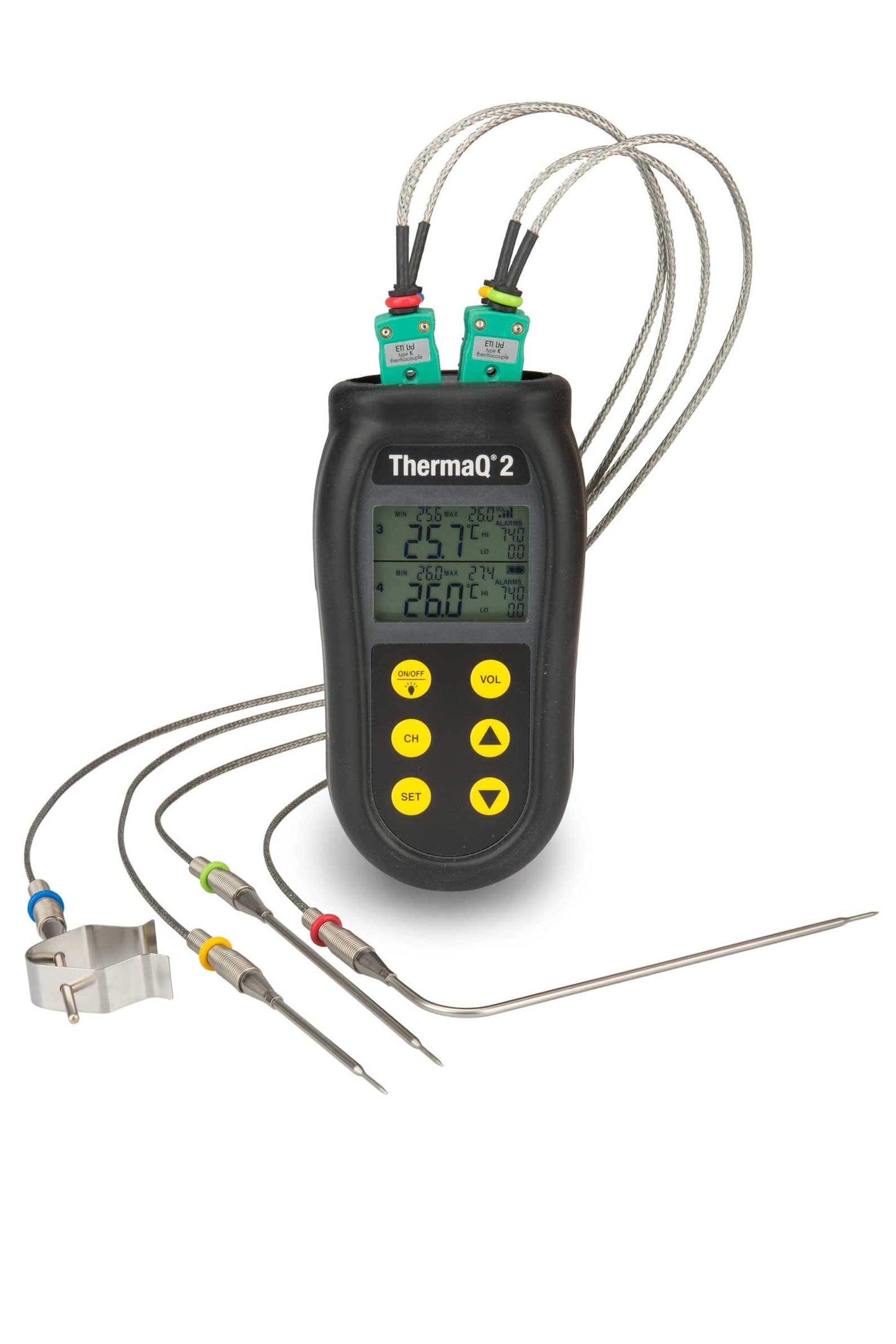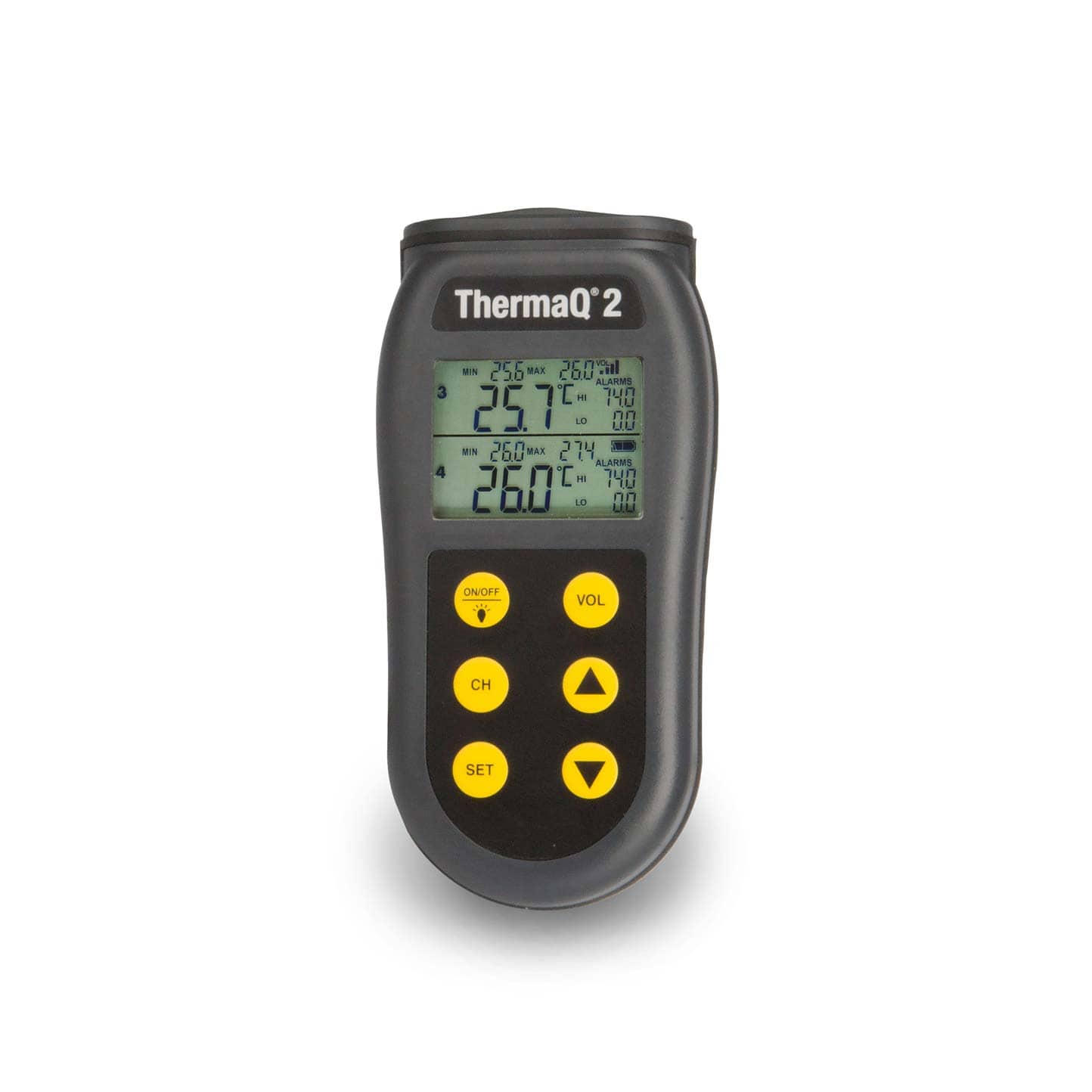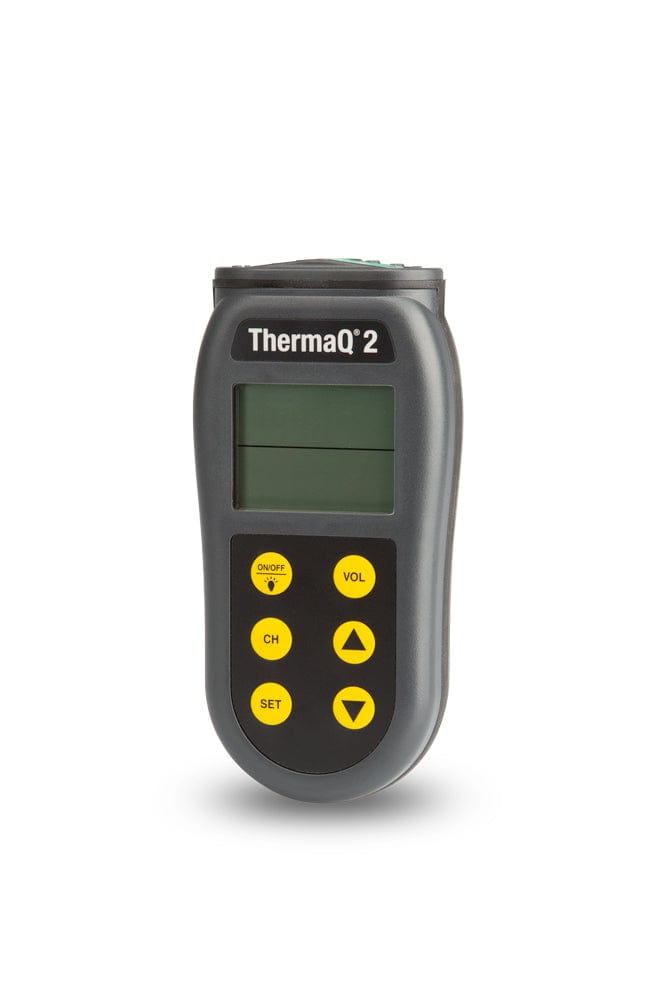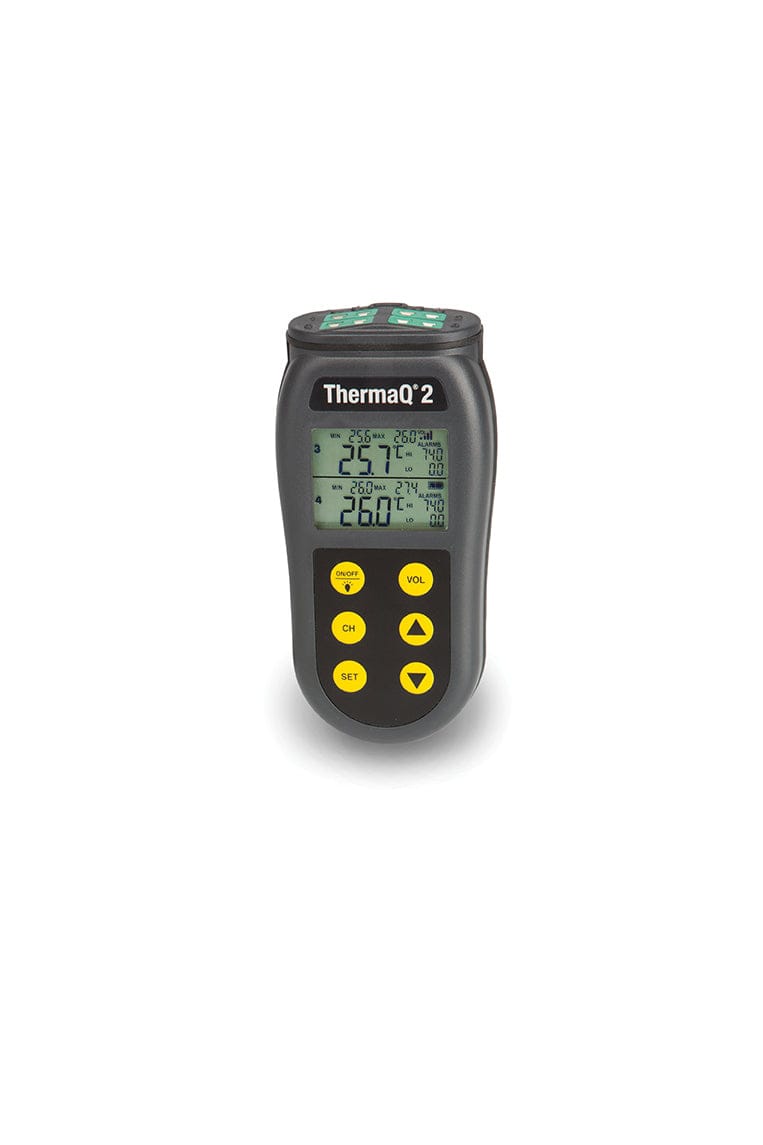 Description du ThermaQ 2 four-channel thermometer
The ThermaQ 2 thermometer allows the user to use four probes simultaneously with type K thermocouple.
It allows you to display the current temperatures and the maximum and minimum temperatures recorded. This also allows the user to monitor multiple foods and oven air temperatures at the same time..

À télécharger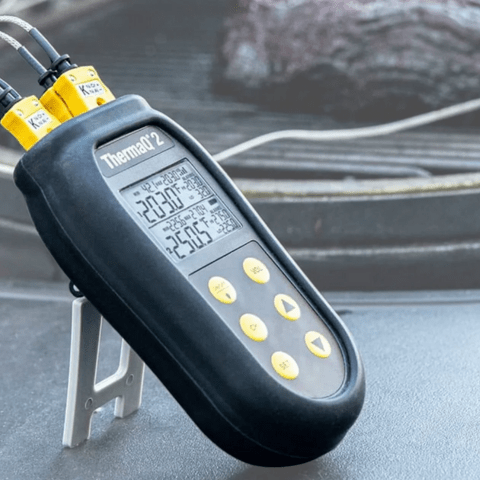 Caractéristiques
Range : -99.9 to 1372°C
Resolution : 0.1°C to 299.9°C then 1°C
System accuracy: ±0.4°C ±0.1% of reading
Battery : 3 x 1,5 volts AAA
Battery life: 3000 hours
Sensor type: Thermocouple K
Alarm volume: 4 modes from 85 to 105 dB
Display : Custom LCD
Dimensions : 32 x 71 x 142 mm
Weight : 230 grammes
Housing: ABS plastic with Biomaster antibacterial additive
Manufacturing country : United Kingdom
Guarantee : two years
Water/Dust Resistance: Protection IP67
Measuring scale : Celsius/Fahrenheit
Certification : FREE traceable calibration certificate
To comply with the standard : EN 13485
Compatible
with all probes
thermocouple type K
Accuracy to
±0,4 °C
(-99.9 to 1372°C)
Guarantee
2 years
and calibration certificate
traceable FREE
Waterproof for
a cleaning
Easy
Alarm volume
capable of reaching
105 decibels
Long battery
duration
3000 hours
and easy to replace batteries
Are the probes supplied with the device?
-
No, the ThermaQ 2 is sold without probes. You can find compatible probes in the section "Made for each other." below the product visuals or in the thermocouple temperature probes in the Accessories category on the drop-down bar of our site!
What makes the ThermaQ 2 so different from other thermometers?
+
The main reason is the 4 channels available which give it a lot of versatility. We also use professional thermocouple technology which allows it to have such a high measuring range while maintaining excellent precision. Comparable professional thermometers cost €350 to €400 for electronics and similar probes!
Will the ThermaQ 2 tell me when my meat is ready?
+
Yes absolutely.It's up to you to program the temperature alarm you want to reach and plant the probe in the heart of the food. Once the temperature is reached, the ThermaQ 2 will beep with a User adjustable sound volume (Volume 1:- 85 - 98 dB; Volume 2:- 90 - 101 dB; Volume 3:- 94 - 103 dB; Volume 4:- 96 - 105dB). We can give you food safety guidelines, but you should consult your favorite cookbooks, TV shows, and recipes for advice not only on safe temperatures, but also on the best cooking temperatures for flavor and the texture. Also remember that individual preference is very important.
Where should I place the probe tip to see if it is cooked?
+
When testing if your meat is cooked, the coldest part will be the center even from the thickest part. With larger foods you can take readings with your thermometer in multiple locations with all 4 channels to check that the entire portion is ready. If you cool a food, the center of the thickest part will be the last to cool. Penetrate the food you are testing with the probe and place the tip of the probe where you want to measure.
I have seen cheaper thermometers, why pay more for a ThermaQ 2?
+
In use there is a big difference. Don't take our word for it. Check out our reviews to read the many reasons written by others. Cheaper thermometers are limited by the technology they use. The ThermaQ 2 is assembled and tested by hand in the United Kingdom and the device is housed in a Ergonomic ABS housing that includes Biomaster antimicrobial technology to reduce bacterial growth. In addition, the device has a USB-C port which allows you to connect a temperature control fan to the Billows barbecue.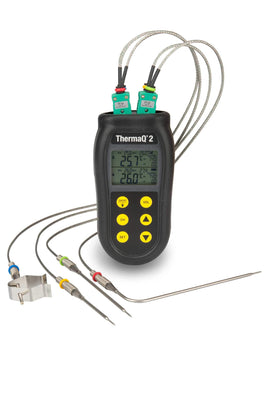 ThermaQ 2 four-channel ...
Your questions
the most frequent