Référence SKU: 298-001
Regular price
$121.00 USD
Regular price
$121.00 USD
Sale price
Unit price
per
An internal sensor

Resolution of 0.1°C/°F

Programmable high/low alarm

Email alerts when alarm limits are exceeded

Access temperature data worldwide via the Internet

Simple and user-friendly setup

FREE traceable calibration certificate
0&nbsp produitsen stock
View full details
Informations sur ma livraison
Processing time if product in stock
-
Orders are shipped within one business day.
An order placed on Monday will be shipped on Monday or Tuesday.
An order placed on Friday will be shipped on Friday or Monday
An order placed on Saturday will be shipped on Monday.
Processing time if product not in stock
+
If the products are not in stock, the delay is generally 3 to 4 weeks . We invite you to contact our sales representatives to obtain the exact deadline.
Delivery times of our carriers
+
Relay point : 3 to 5 days of transport.
Standard : 2 to 3 days of transport.
Express : 1 day of transport.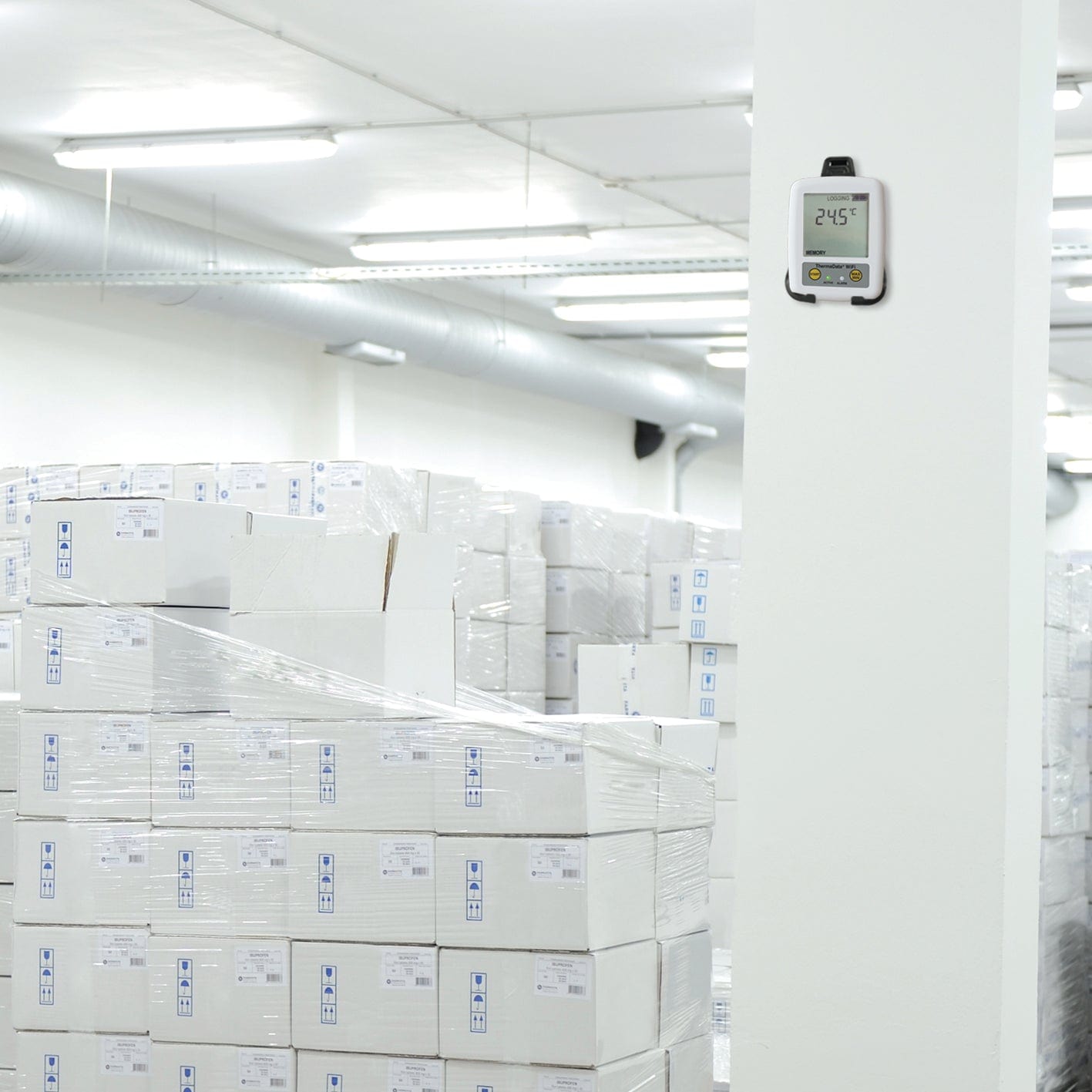 Description du Wireless WiFi recording thermometer with i...
WiFi thermistor logger with an internal sensor
Internal sensor temperature range of 0 to 50°C, with a resolution of 0.1°C/°F and an accuracy of ±0.5°C.
The new WiFi recorders use the latest WiFi wireless technology. The loggers are a cost-effective, battery-powered temperature monitoring system that remotely records the temperature of appliances and buildings. Each logger transmits recorded data to an Internet-connected WiFi router, accessible and viewable from a PC, laptop or tablet anywhere in the world.
Loggers have a range limited to the users' WiFi router specifications. Each logger features an intuitive LCD screen displays temperature, WiFi connection status, max/min recorded temperatures, alarm status and battery life.
At programmable intervals, the loggers record the temperature of both sensors, recording up to a maximum of 18,000 readings (9,000 from each sensor). Each recorder includes a red and green LED. The flashing green LED indicates that the logger is active/connected and the flashing red LED indicates that your custom alarms have been exceeded. Each unit comes with a USB cable. The software is FREE to download from our website and is free, with no fees or subscriptions.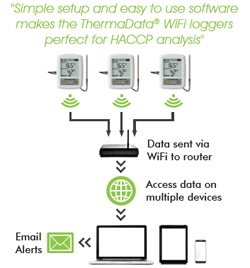 How does the WiFi thermometer work?
Using each logger's unique ID, this creates a secure connection between the logger and the software, accessible and viewable anytime, anywhere with an internet connection.
Each probe communicates directly with the WiFi router at set intervals to send data over the Internet to your WiFi thermometer.
The information is available to be analyzed and exported in a report format
The software
Both powerful and powerful, the software helps organize and analyze temperature data to provide management information.
The software has the ability to display up to 32 traces on a graph, trace colors are user selectable. All files can be viewed as thumbnail icons for easy identification.
The software allows the user to program the sampling rate/recording interval (0.1 to 330 minutes), communication interval (synchronization) with PC, real-time clock, °C or °F and a manual start option. It is also possible to include a user ID for each logger.
The app
By logging into the TD Link app, you can view the status of all wireless thermometers associated with the software anywhere internet is available.
You can view current readings, settings and reference information for all your thermometers.
Warning indicators are displayed if there is a problem with an instrument or if a sensor reading has reached alarm levels defined in the software.
For each thermometer, you can choose to receive push notifications when an alarm condition has been detected.
TD Link is a read-only application, which cannot be used to change instrument settings.
Available on iOS and Android.
Technical sheet
| | |
| --- | --- |
| Beach : | 0 to 50°C |
| Resolution : | 0.1°C/°F |
| Precision : | ±0.5°C |
| Memory : | 9000 conferences |
| Sampling rate: | 6 seconds to 330 minutes |
| Stack : | 2 x 1.5 volt AA |
| Battery life: | about 12 months |
| Display : | 12mm LCD / 2 LEDs |
| Dimensions: | 29x72.5x96mm |
| Weight : | 165 grams |
| Housing: | ABS plastic |
| Manufacturing country : | United Kingdom |
| Guarantee : | two years |
| Measuring scale : | Celsius/Fahrenheit |
Caractéristiques
Wireless WiFi recording...
Your questions
the most frequent