Référence SKU: 235-407
Regular price
$84.00 USD
Sale price
Unit price
per
Measures temperature in 1 second

Accuracy to ±0.3°C (-19.9 to 119.9°C)

5-year warranty and FREE traceable calibration certificate

Waterproof for easy cleaning

360° rotating digital display

Long-lasting 2000 hour battery and easy-to-replace batteries
0&nbsp produitsen stock
View full details
Informations sur ma livraison
Processing time if product in stock
-
Orders are shipped within one business day.
An order placed on Monday will be shipped on Monday or Tuesday.
An order placed on Friday will be shipped on Friday or Monday
An order placed on Saturday will be shipped on Monday.
Processing time if product not in stock
+
If the products are not in stock, the delay is generally 3 to 4 weeks . We invite you to contact our sales representatives to obtain the exact deadline.
Delivery times of our carriers
+
Relay point : 3 to 5 days of transport.
Standard : 2 to 3 days of transport.
Express : 1 day of transport.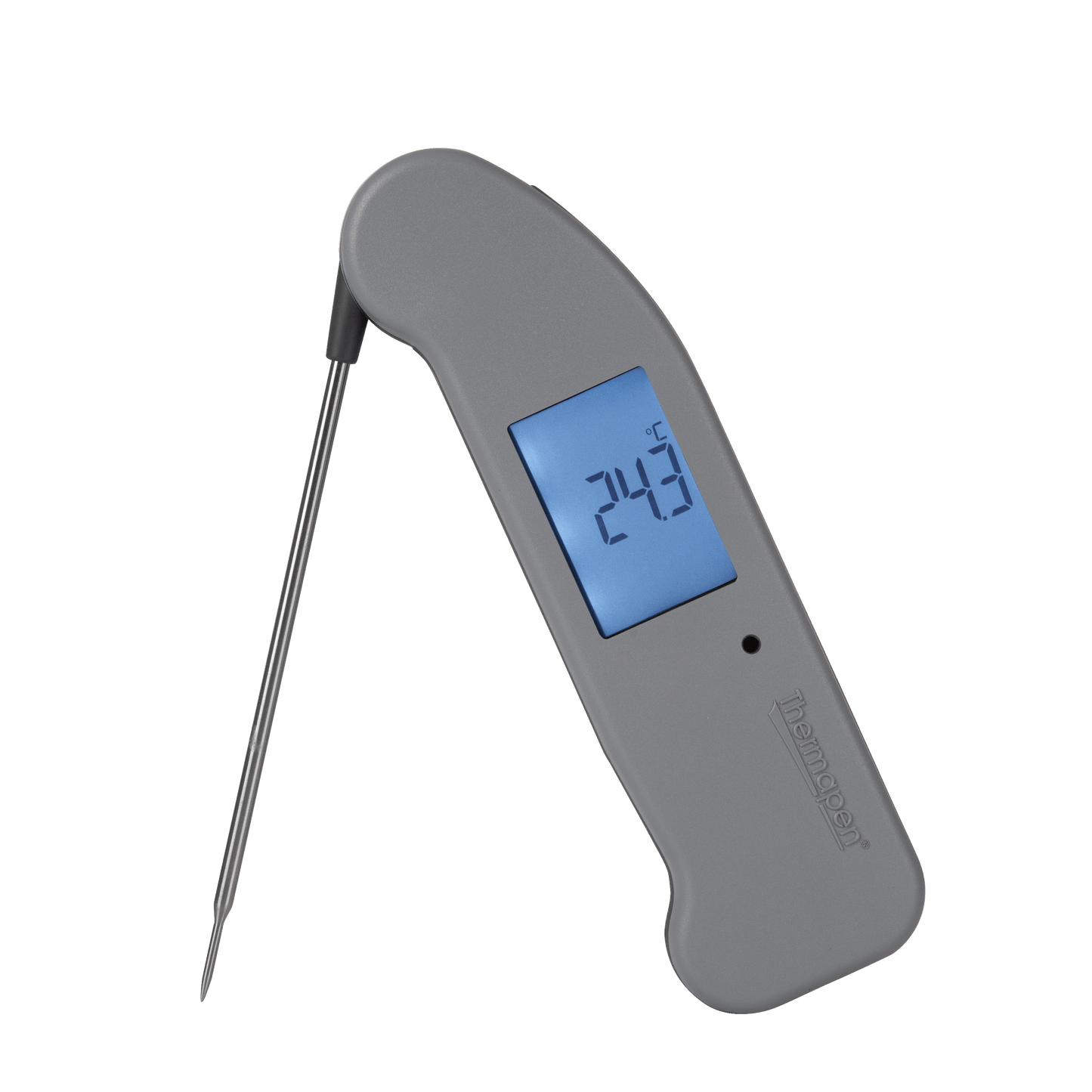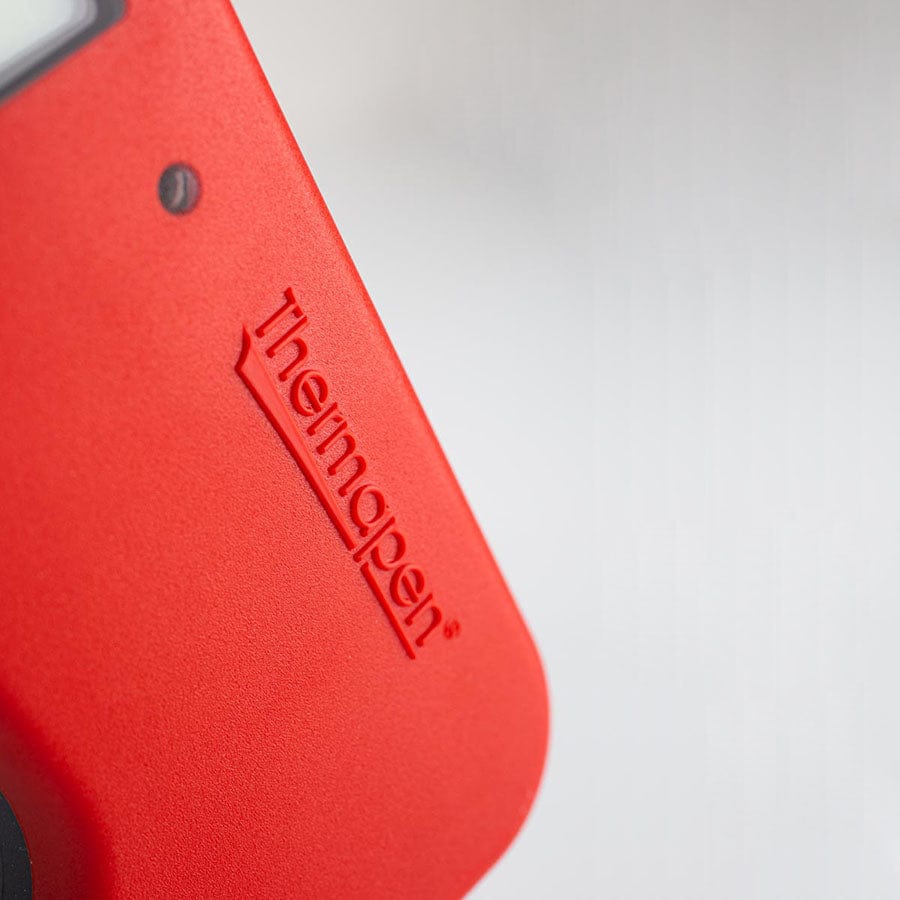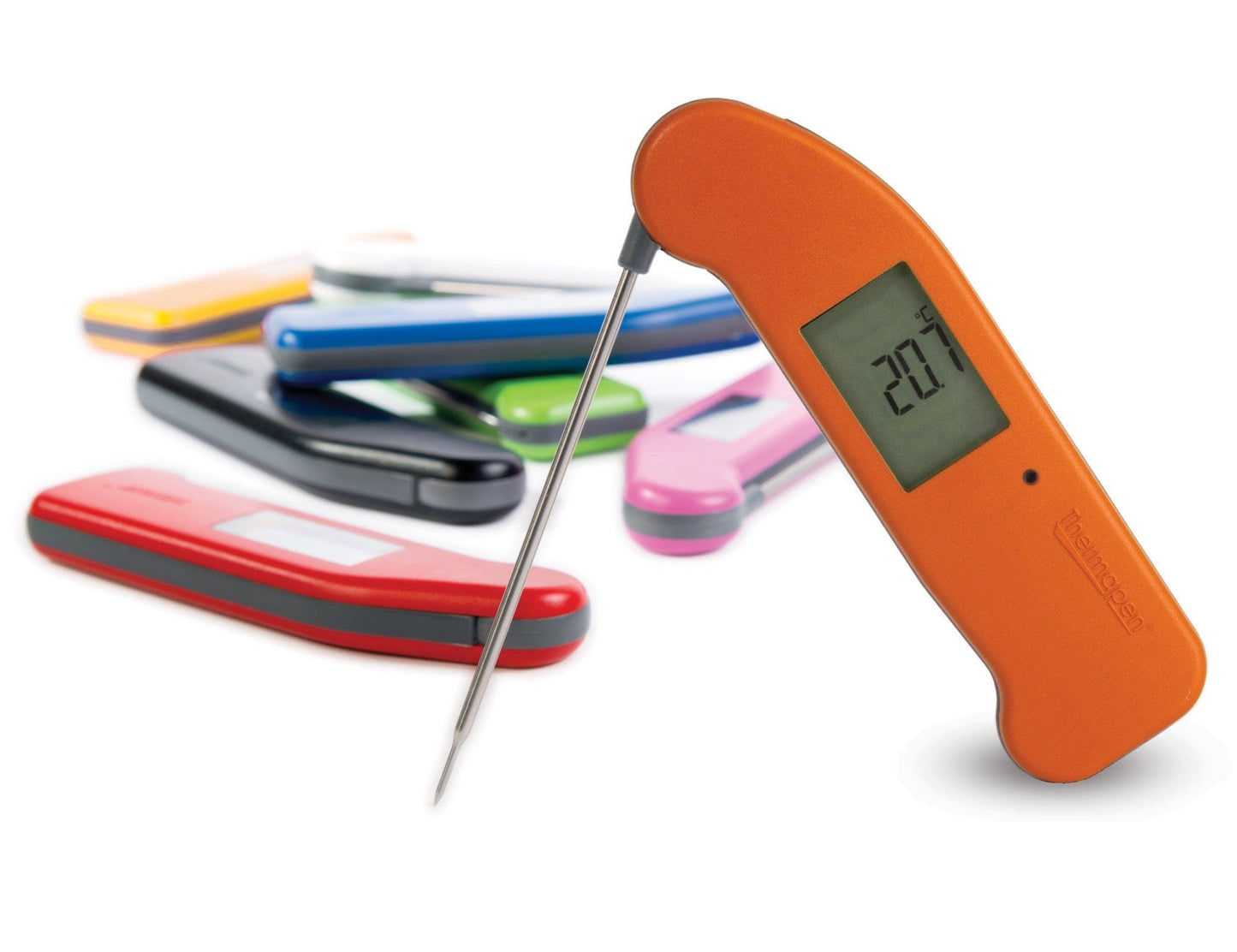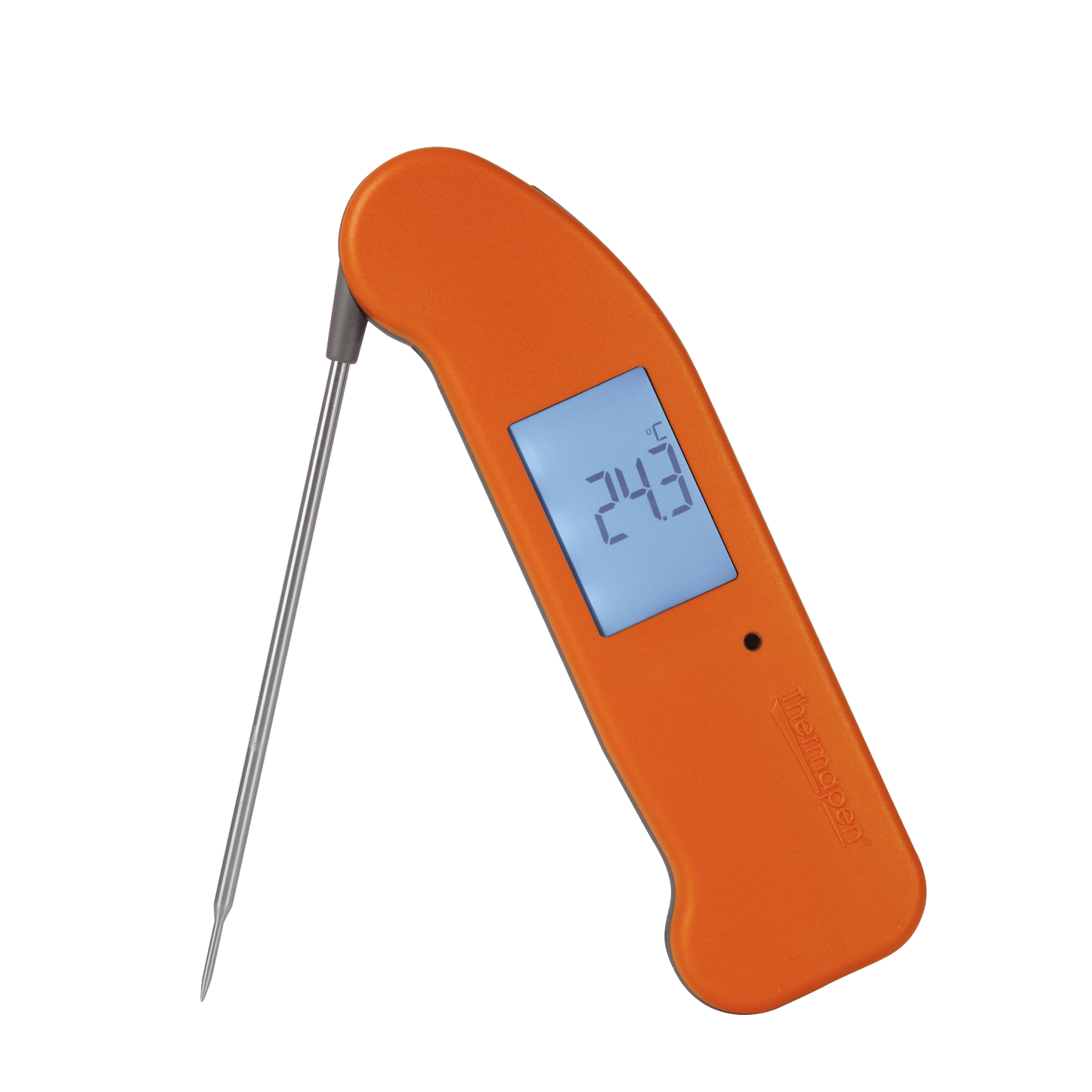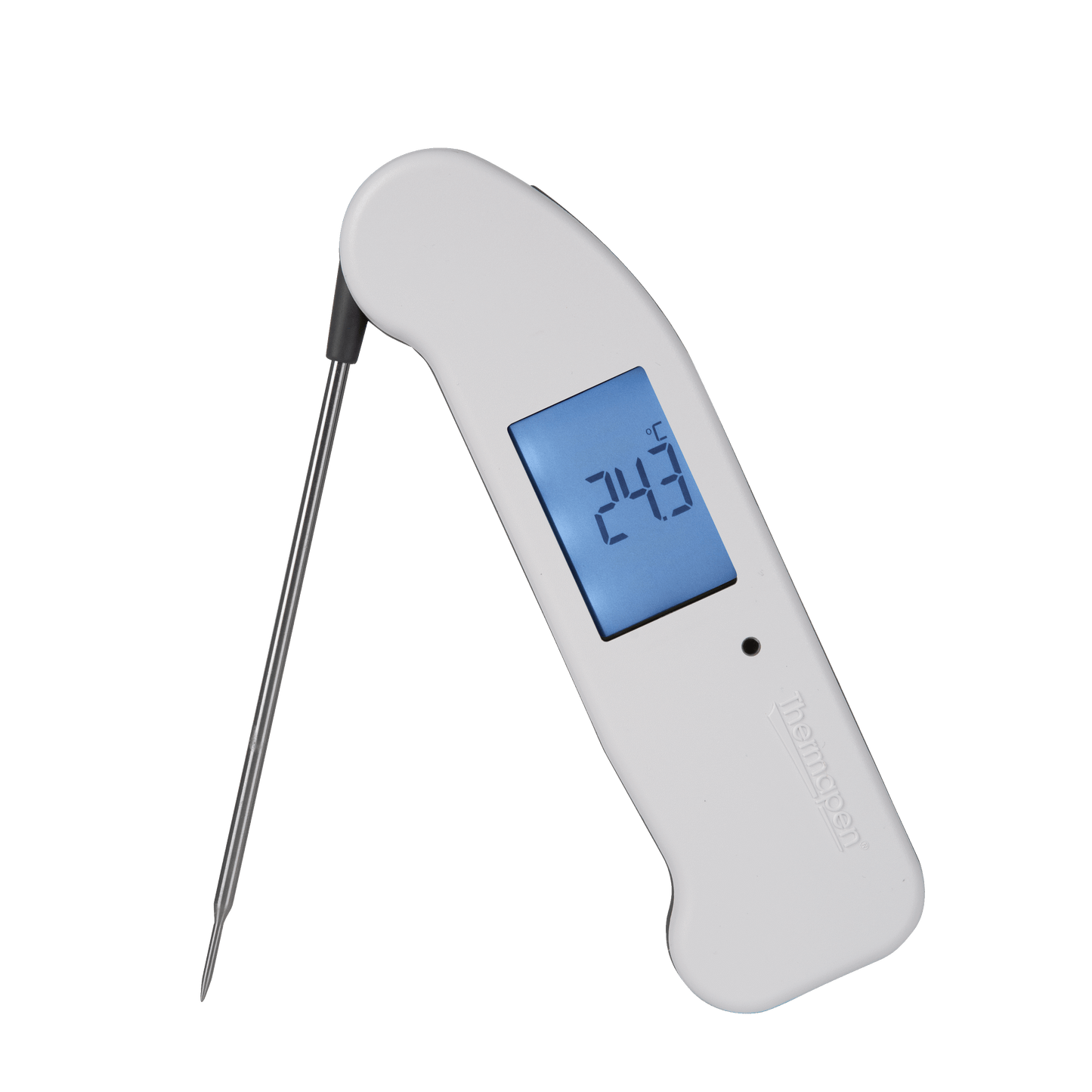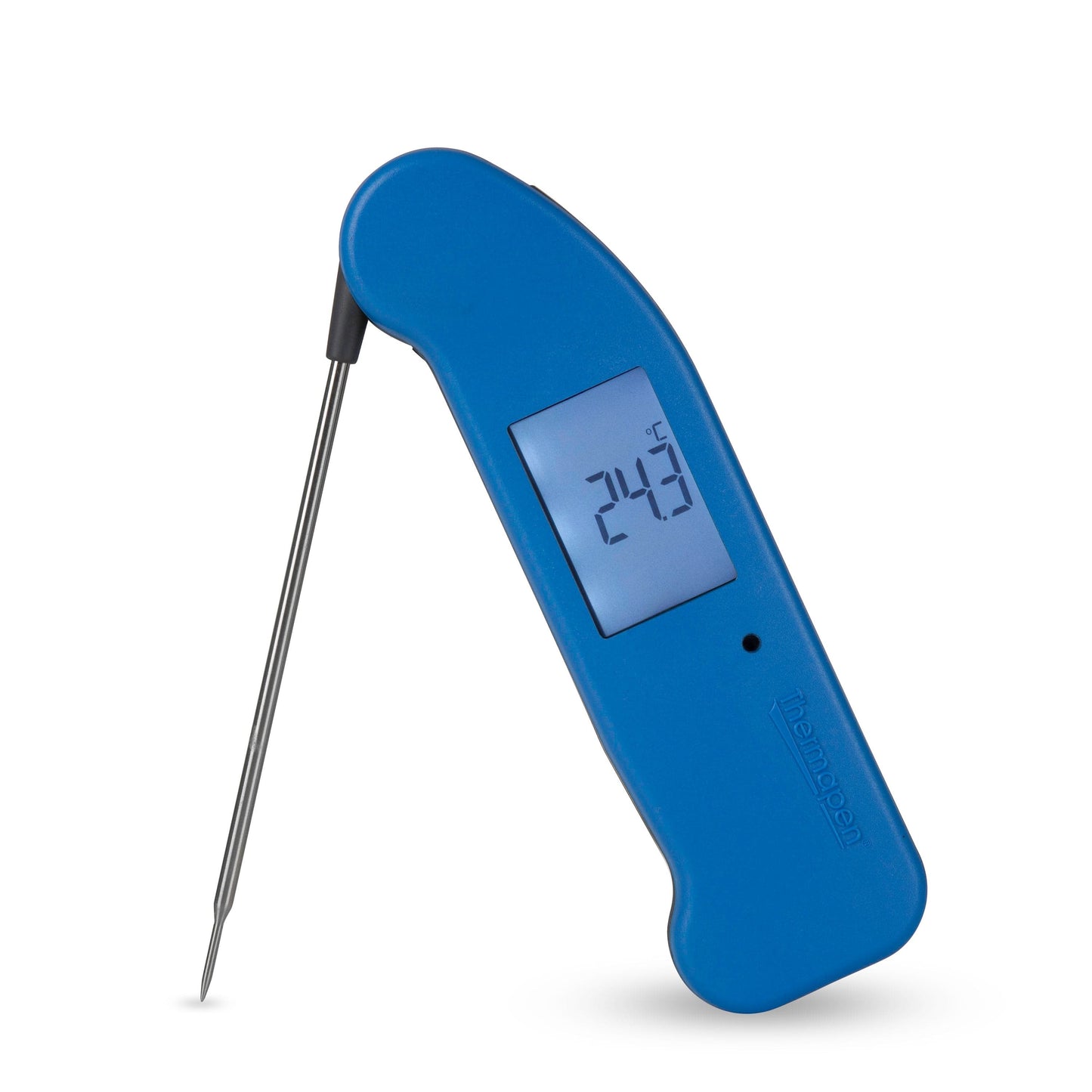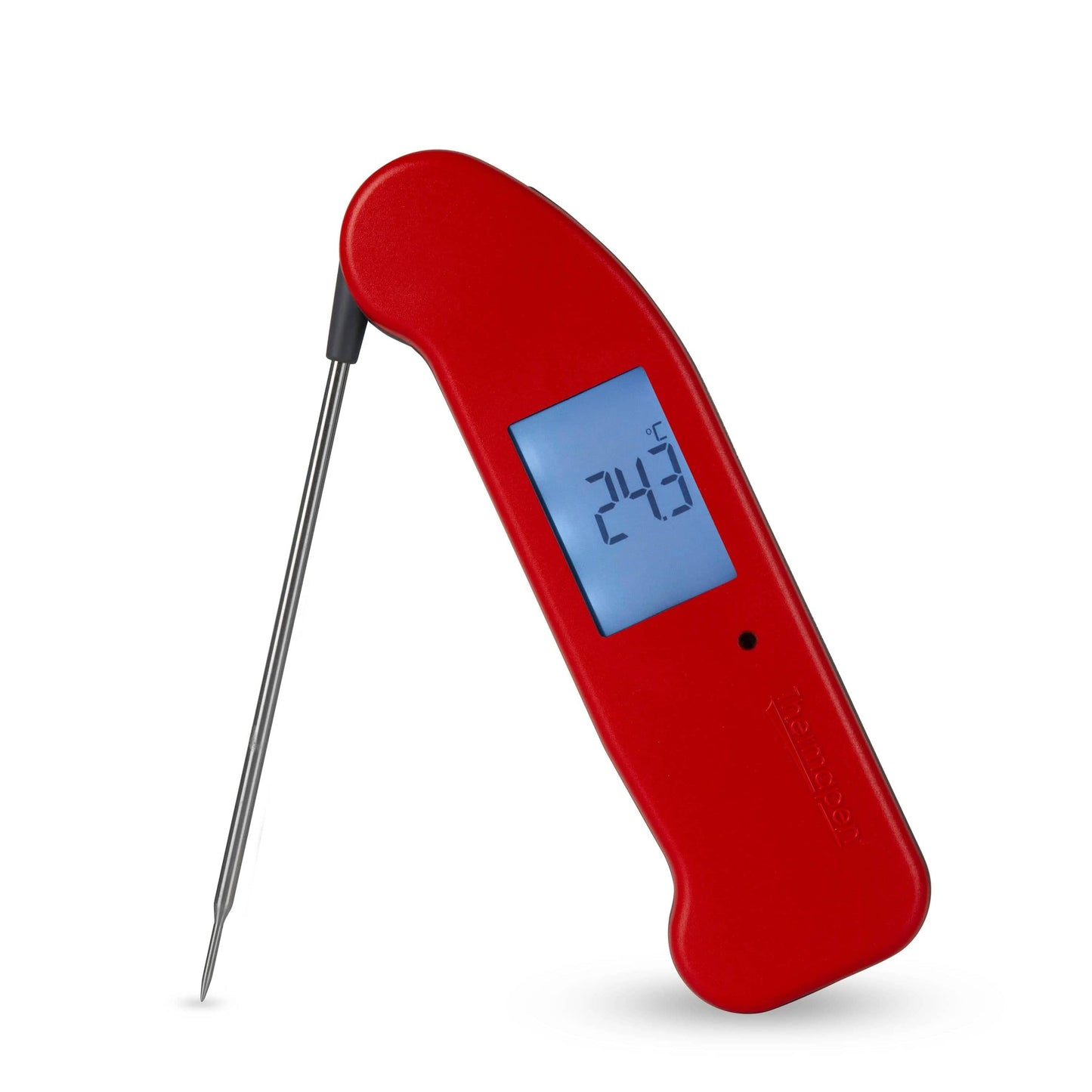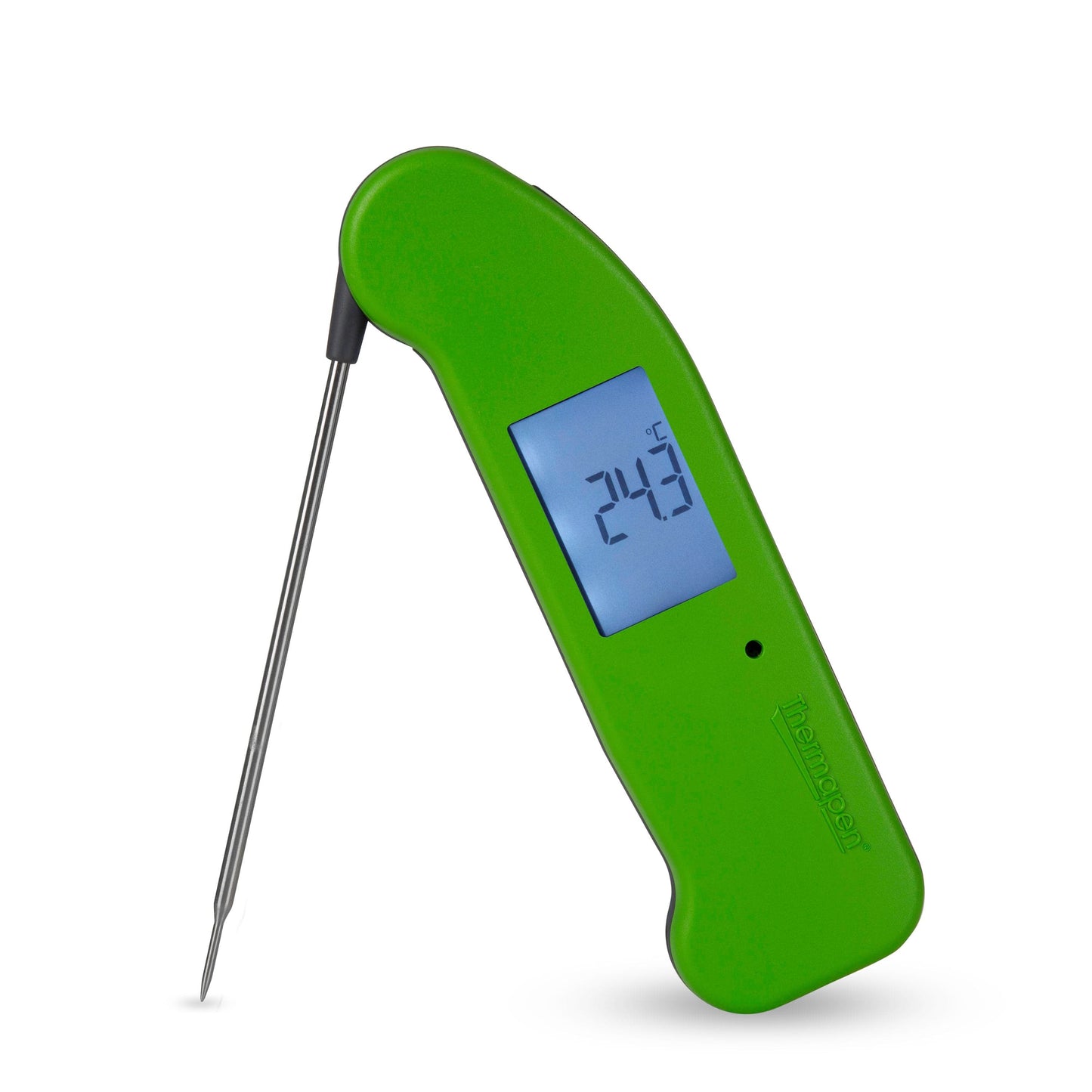 Description du Thermapen® One
The NEW Thermapen® One thermometer is the latest model of the UK's number one food thermometer, Thermapen.
Measures temperature over the range of -49.9 to 299.9°C and used by hundreds of thousands of discerning cooks worldwide, it offers a combination of speed, accuracy and convenience of use .

À télécharger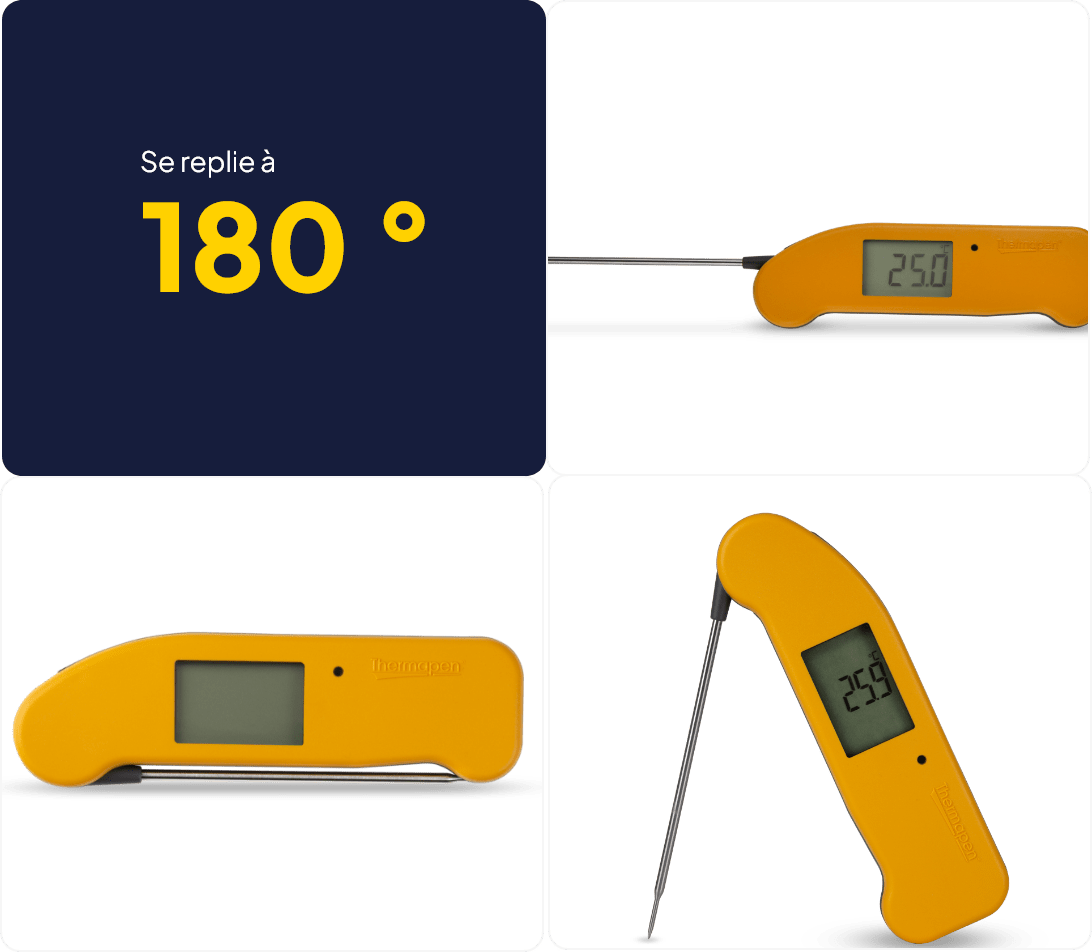 Caractéristiques
Range: -49.9 to 299.9°C
Operating range: -20 to +50°C
Resolution: 0.1°C or 1°C user selectable
Battery: 1.5 volt AAA
Battery life: 2000 hours (without backlight), 100 hours backlight per hour
Sensor type: K thermocouple
Display: LCD screen 14.3 mm (horizontal) x 11.85 mm (vertical)
Backlight : Yes
Dimensions: 48.2mm x 156.2mm x 19.3mm
Weight: 115 grams
Housing: ABS plastic with Biomaster antibacterial additive
Warranty: five years
Water/dust resistance: IP67 rating
Measuring scale: Celsius/Fahrenheit
Certification: FREE traceable calibration certificate
Probe diameter: Fast response ø3.3 mm
Probe length: 110mm
Complies with standard: EN 13485
UKCA/EC Status: CE 1639 Approved
Measure
temperature
in 1 second
Accuracy to
±0.3°C
(-19.9 to 119.9°C)
Guarantee
5 years
and calibration certificate
traceable FREE
Waterproof for
a cleaning
Easy
Display
rotary digital
360°
Long battery
duration
2000 hours
and easy to replace batteries
What makes the Thermapen One so fast compared to other thermometers?
-
The main reason is the professional thermocouple technology we use instead of mass-produced thermistor technology. Thermocouples are recommended by most food standards agencies for measuring cooked meat products and thin portions. We also use a reduced diameter needle tip on the probe . Comparable professional thermometers cost from €170 to €350 for electronics and a similar probe!
How long should my Thermapen batteries last?
+
The battery life of the Thermapen One is 2000 hours without backlight or 100 hours with backlight on . In the battery compartment you can activate and deactivate the automatic shut-off function. The auto-off feature will extend battery life. Consult your owner's manual for details.
Will the Thermapen tell me when my meat is ready?
+
Not exactly. Instead, it tells you (very quickly) the actual temperature and you decide if it's "done" . We can give you food safety guidelines, but you should consult your favorite cookbooks, TV shows, and recipes for advice not only on safe temperatures, but also on the best cooking temperatures for flavor and the texture. Also remember that individual preference is very important .
Where should I place the probe tip to see if it is cooked?
+
When testing your meat for doneness, the coldest part will be the very center of the thickest part. With larger foods, you can take quick readings with your thermometer in multiple locations to check that the entire portion is ready. If you cool a food, the center of the thickest part will be the last to cool. Penetrate the food you are testing with the probe and place the tip of the probe where you want to measure.
I've seen cheaper thermometers, why pay more for a Thermapen?
+
In use there is a big difference. Don't take our word for it. Check out our reviews to read the many reasons written by others. Cheaper thermometers are limited by the technology they use. The Thermapen is hand assembled and tested in the UK and uses a professional thermocouple circuit design . This design costs more to manufacture than cheaper, less efficient thermometers.
Thermapen® One
Our tutorials & tips
Astuce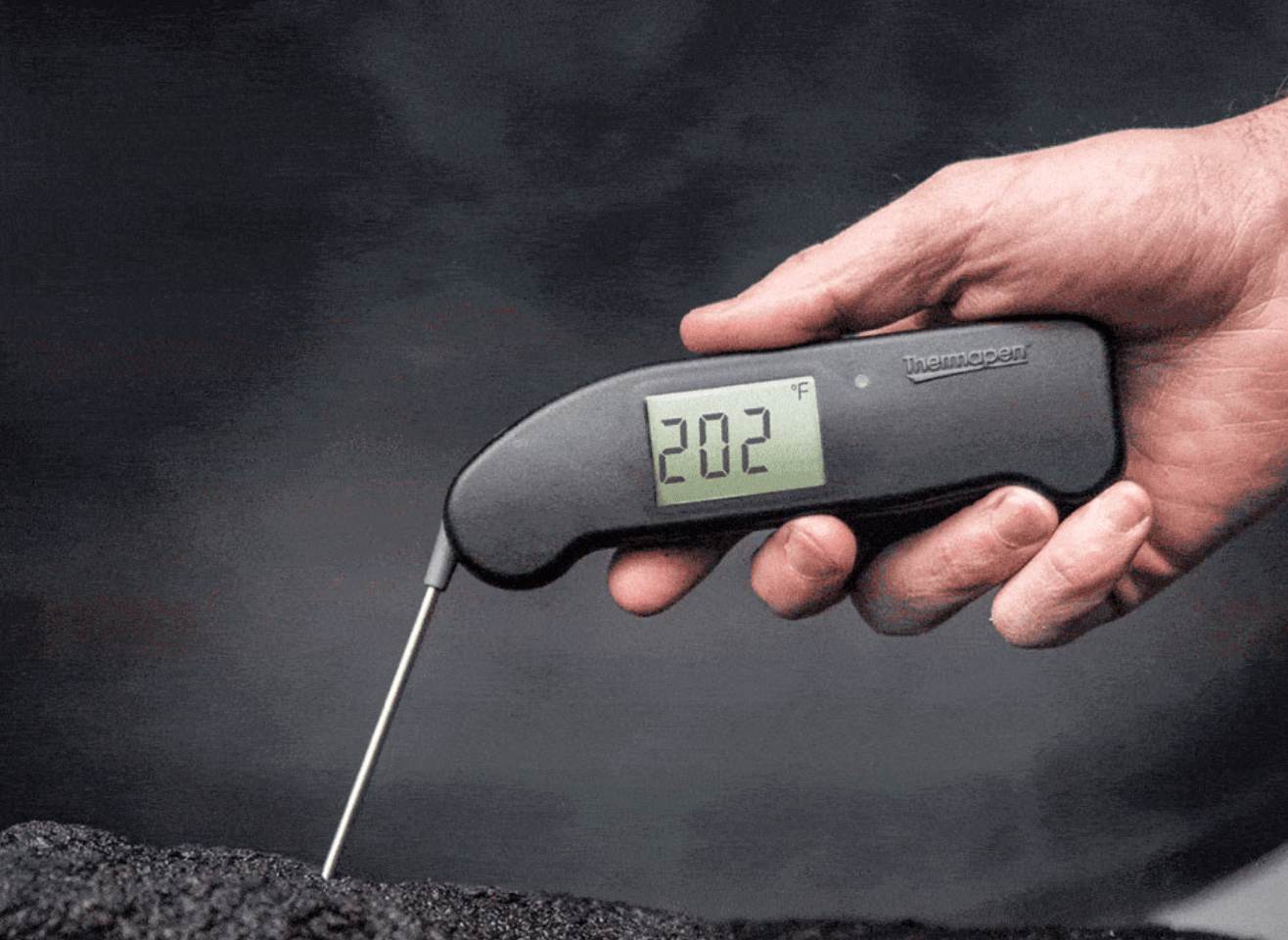 5 min de lecture
Bien utiliser son Thermapen One en 5 étapes
Tuto n°1
">
Tuto n°2
">
Astuce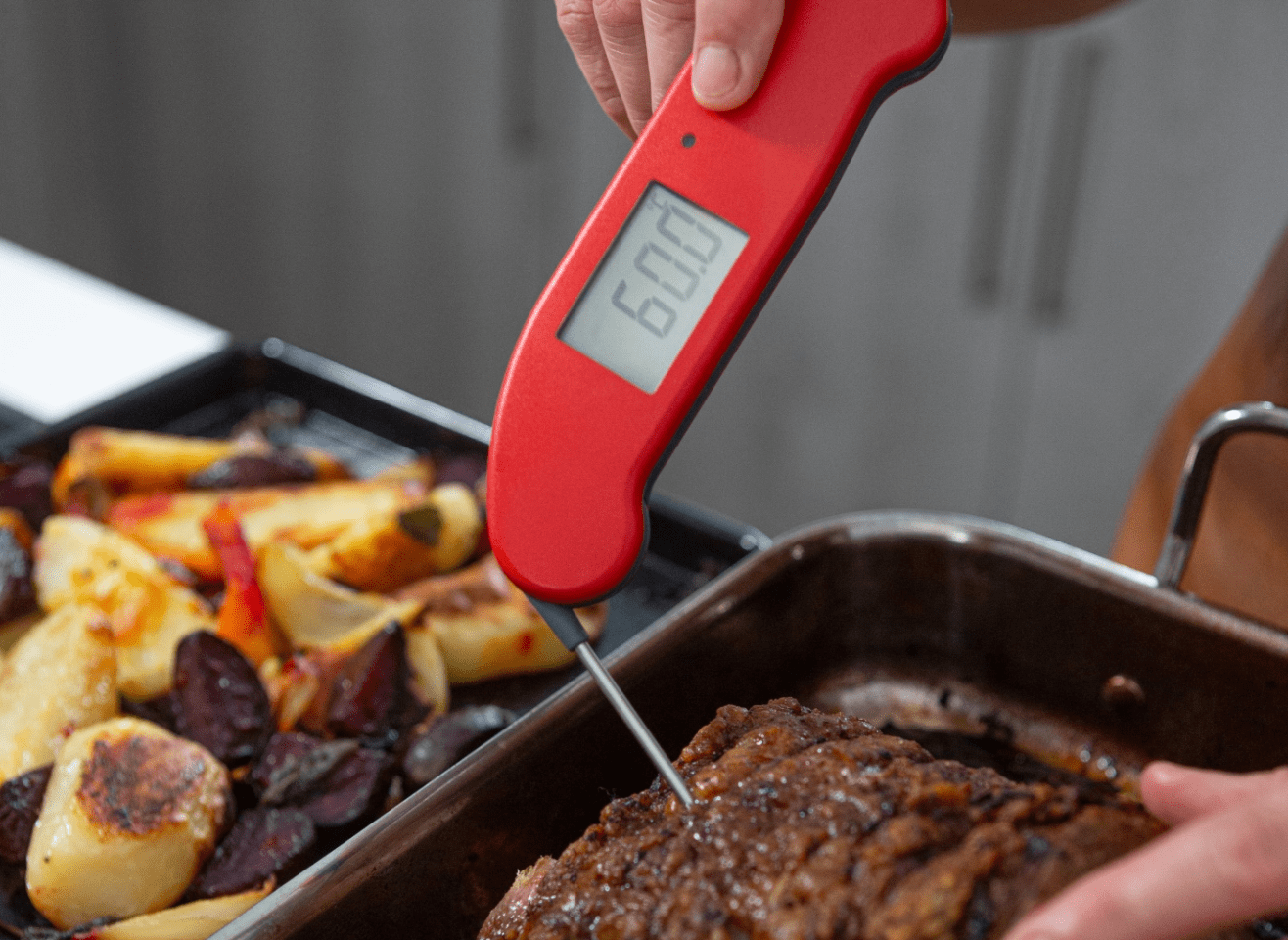 5 min de lecture
Bien utiliser son Thermapen One en 5 étapes
Your questions
the most frequent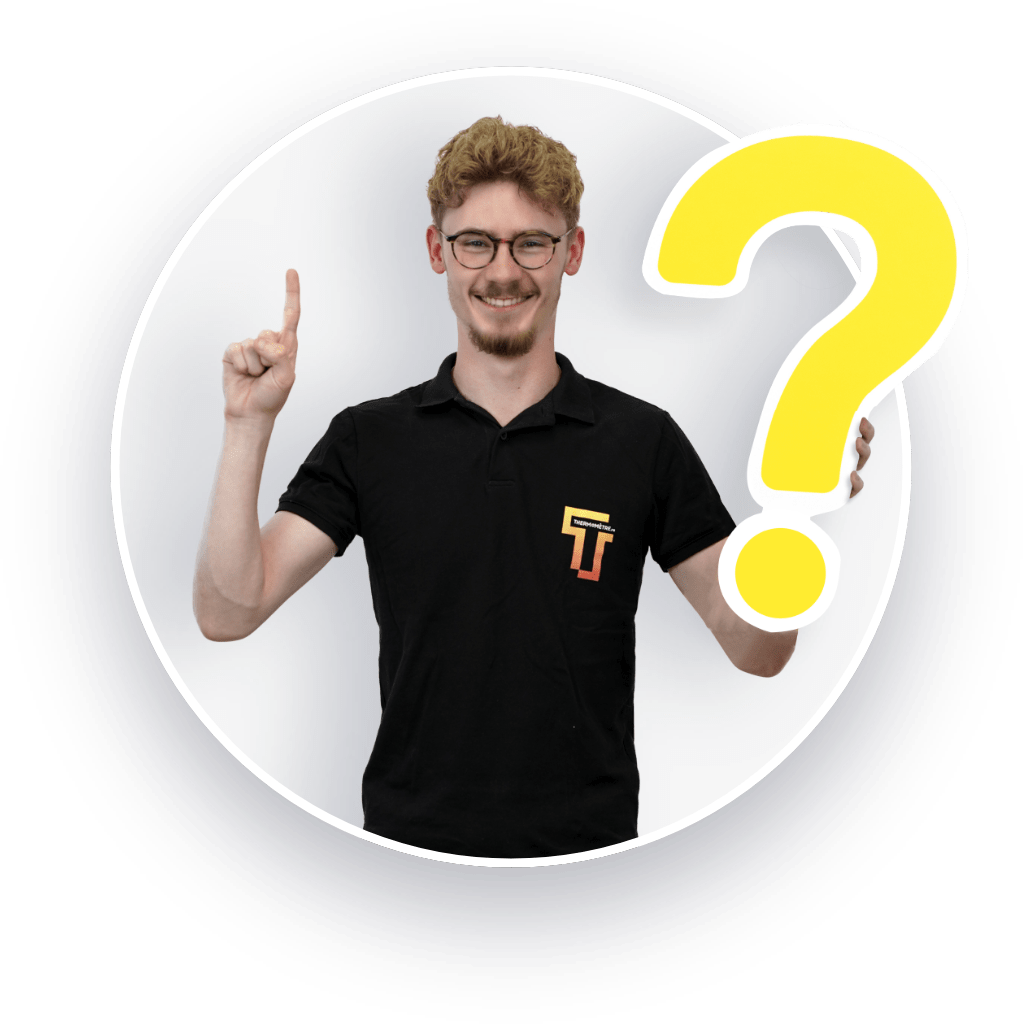 Excellent en tous points
Le Thermapen® One est précis, rapide et confortable à tenir. Parfait pour relever la temperature de plusieurs viandes sur le grill.
Très satisfait ✅
J'ai commencé à utiliser le thermomètre Thermapen One et j'en suis très satisfait pour l'instant. La lecture de la température à 360° est très pratique ! Il m'a été conseillé par le chef Jungstedt 🇸🇪 pour le tempérage du chocolat entre autres ! Parfait !
Merci énormément pour ton super avis ! On est super contents de savoir que le Thermapen® One est conforme à vos attentes. Rien à signaler, tout est nickel ! Si jamais vous avez des questions ou besoin d'aide, n'hésitez pas à nous faire signe. On est là pour vous !
À bientôt,
L'équipe Support Thermomètre.fr
Le meilleur thermotère à avoir entre les mains
Après avoir eu de nombreux thermomètres entre les mains atour de marques plus ou moins réputées, j'ai souhaité me tourner vers un produit plus qualitatif et professionnel. Cela représente certes un budget mais l'expérience est superbe.
Le Thermapen One a un temps de lecture très rapide, avec une précision à la virgule près, sa prise en main est très agréable et on peut choisir parmi une dizaine de coloris.
Bref, je ne peux que vous recommander d'investir dans ce type de matériel et surtout de choisir le bon. Vous ne pourrez plus rater vos préparations salées ou sucrées.
Merci d'avoir partagé votre avis sur le Thermapen One ! Il est toujours intéressant d'entendre les expériences des autres utilisateurs sur des produits de cuisine de qualité. Il est vrai que l'investissement dans un thermomètre de qualité peut sembler élevé, mais cela peut faire une grande différence dans la qualité de nos préparations culinaires.
Je suis heureux de savoir que le Thermapen One répond à vos attentes en matière de rapidité de lecture et de précision. Il est également agréable de voir que vous appréciez la variété de couleurs disponibles pour personnaliser votre thermomètre. Cela montre que même les outils de cuisine les plus techniques peuvent être esthétiques !
Cordialement,
L'équipe Support Thermomètre.fr
Great tool!
Thermapen One works great, I'm really satisfied.
Thank you so much Martina for your positive review of our Thermapen® One! We are thrilled that our tool worked great for you and that you are really satisfied with your purchase.
Best regards,
The Support Thermomètre.fr Team
termemetre
conforme à mes attentes très pratique...
Bonjour Marie,
Merci d'avoir pris le temps de partager votre avis sur notre Thermapen® One. Nous sommes ravis de savoir que notre produit répond à vos attentes et qu'il est pratique pour vous.
Cordialement,
L'équipe Support Thermomètre.fr
Semble solide, intelligemment pensé (la rotation de l'écran et le rétroéclairage, automatiques et réactifs), et très rapide !
Merci Sylvain pour votre avis sur le Thermapen® One ! Nous sommes ravis d'apprendre que vous appréciez la qualité de notre produit ainsi que ses fonctionnalités pratiques telles que la rotation de l'écran et le rétroéclairage automatiques et réactifs.
Nous espérons que votre Thermapen® One continuera à répondre à toutes vos attentes et que vous pourrez profiter de ses performances pour créer de délicieux plats.
Cordialement,
L'équipe Support Thermomètre.fr