Référence SKU: 810-927
Regular price
$16.00 USD
Sale price
Unit price
per
Multifunction thermometer.
Displays temperatures and alarm settings.
With stainless steel penetration probe.
CalCheck function 0.0°C.
3&nbsp produits en stock
View full details
Informations sur ma livraison
Processing time if product in stock
-
Orders are shipped within one business day.
An order placed on Monday will be shipped on Monday or Tuesday.
An order placed on Friday will be shipped on Friday or Monday
An order placed on Saturday will be shipped on Monday.
Processing time if product not in stock
+
If the products are not in stock, the delay is generally 3 to 4 weeks . We invite you to contact our sales representatives to obtain the exact deadline.
Delivery times of our carriers
+
Relay point : 3 to 5 days of transport.
Standard : 2 to 3 days of transport.
Express : 1 day of transport.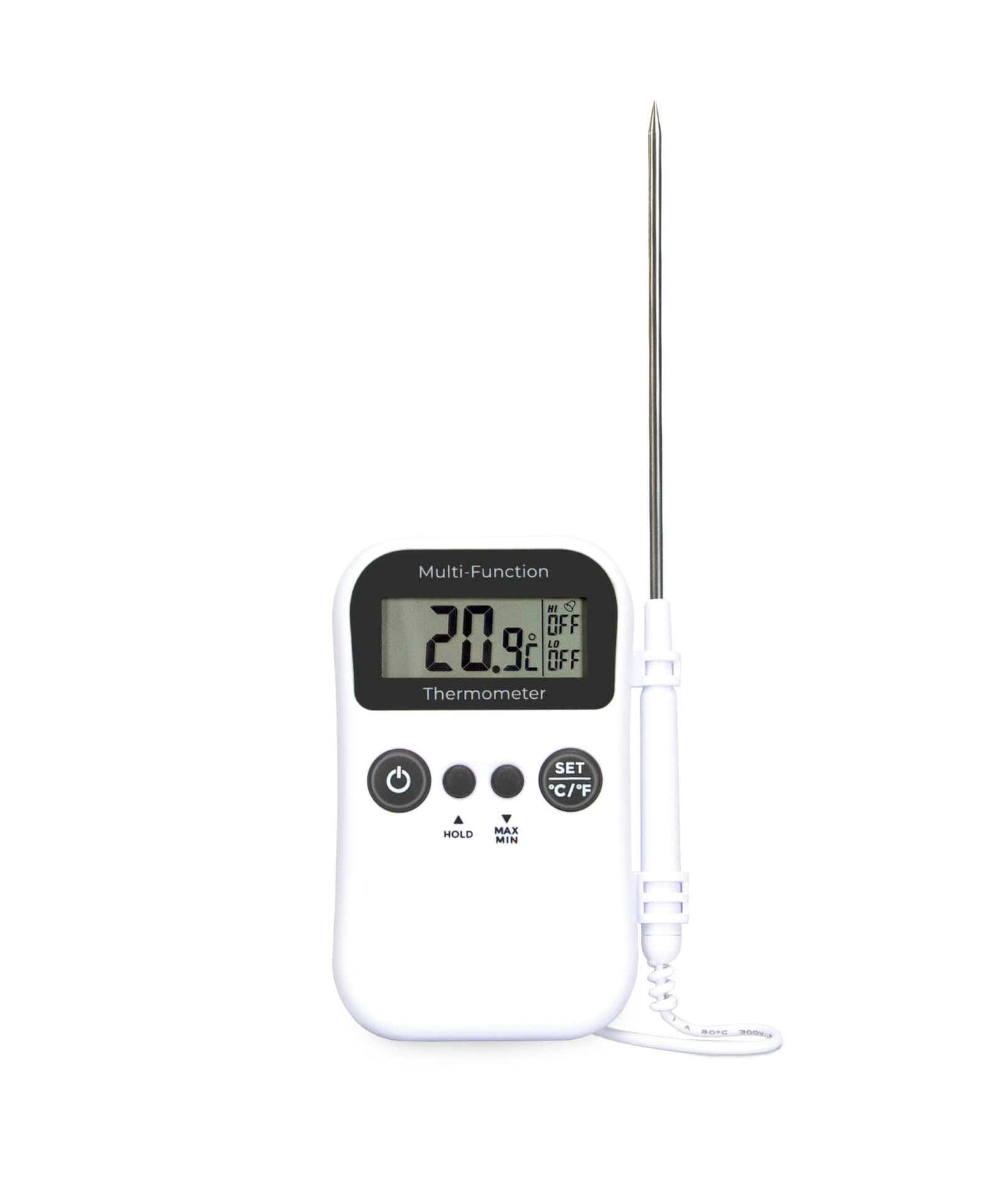 Description du Multifunction thermometer - digital cateri...
The newly designed digital multifunction thermometer is a compact, easy-to-use thermometer ideal for restaurants, bars and cafes as a cost-effective solution for temperature measurement applications.
The multi-function digital thermometer includes a display hold function, max/min memory and 0.0°C CalCheck function as well as an adjustable high/low temperature audible alarm.
The multifunction thermometer housing and probe handle include Biomaster antimicrobial technology that reduces bacterial growth.
Each unit is supplied with a stainless steel food penetration probe (Ø3.5 x 125 mm) with a 1 meter PVC connection cable, pocket clip and probe cover.
Range: -19.9 to 149.9°C
Resolution: 0.1°C / °F
Accuracy: ±1°C (0 to 120°C) otherwise ±2°C
Battery: 1.5 volt AAA
Battery life: 5000 hours
Sensor type: thermistor
Display: Custom LCD
Dimensions: 25 x 73 x 123 mm
Weight : 111 grams
Housing: ABS plastic
Warranty: one year
Measuring scale: Celsius / Fahrenheit
Caractéristiques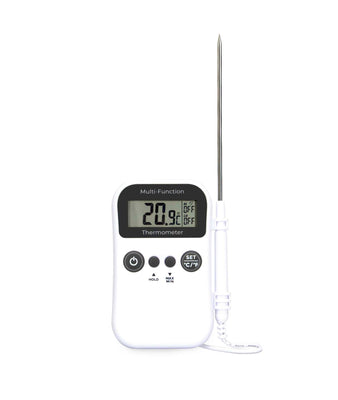 Multifunction thermomet...
Your questions
the most frequent