Référence SKU: 814-060
Regular price
$34.00 USD
Sale price
Unit price
per
Alignment of LED spots.
Display hold function.
Lock function for continuous measurement.
Max/min memory function.
5&nbsp produits en stock
View full details
Informations sur ma livraison
Processing time if product in stock
-
Orders are shipped within one business day.
An order placed on Monday will be shipped on Monday or Tuesday.
An order placed on Friday will be shipped on Friday or Monday
An order placed on Saturday will be shipped on Monday.
Processing time if product not in stock
+
If the products are not in stock, the delay is generally 3 to 4 weeks . We invite you to contact our sales representatives to obtain the exact deadline.
Delivery times of our carriers
+
Relay point : 3 to 5 days of transport.
Standard : 2 to 3 days of transport.
Express : 1 day of transport.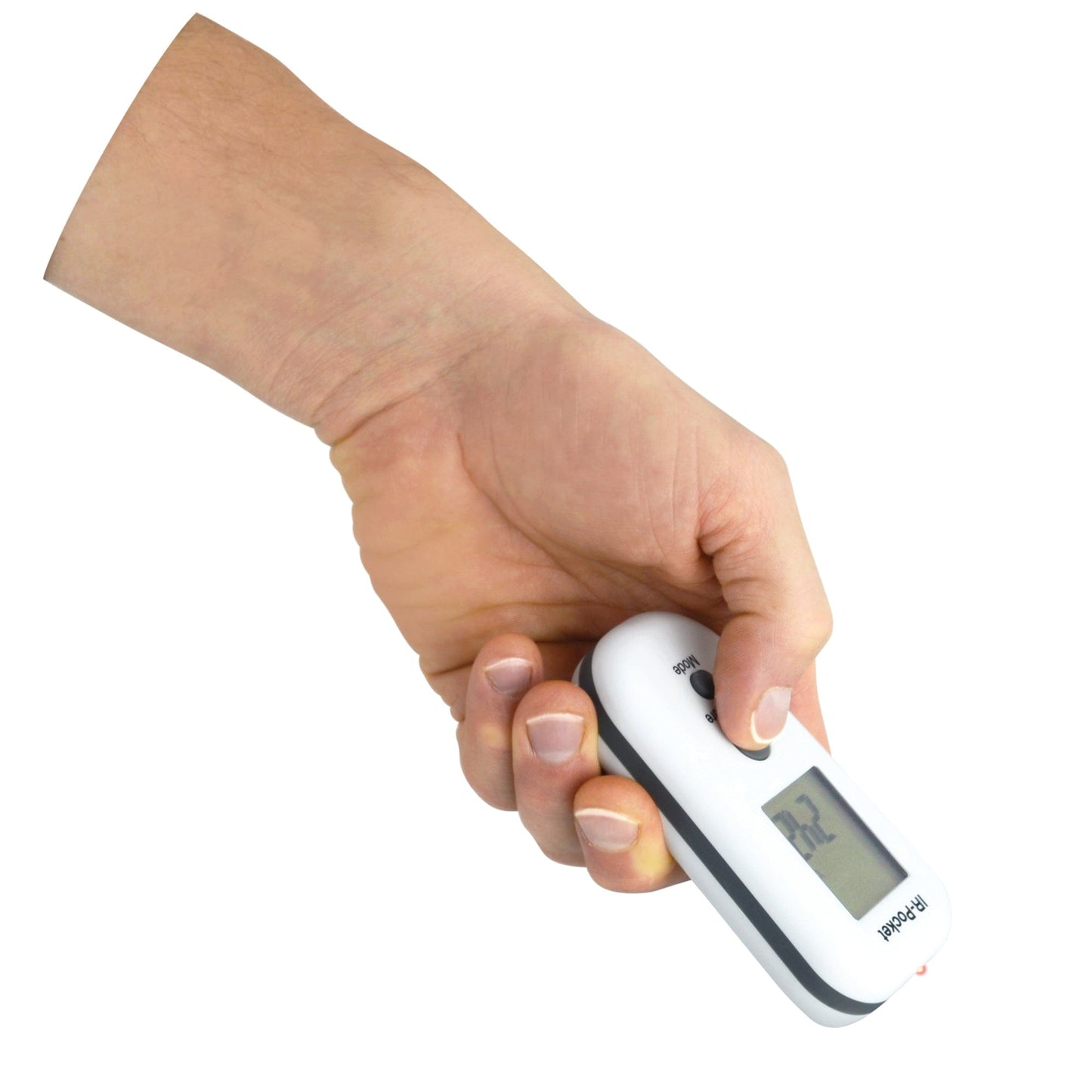 Description du Pocket thermometer - infrared thermometer
The IR-Pocket Thermometer is a non-contact infrared thermometer with an easy-to-read LCD display with low battery indication.
Simply aim at the target and press the measurement button to instantly display the surface temperature.
The IR-Pocket indicates temperature in the range of -9.9 to 199.9°C with a guaranteed accuracy of ±2% of reading or ±2°C whichever is greater.
The IR-Pocket thermometer has a two-button keypad .
Pressing the mode button allows the user to access a variety of functions , namely max/min, °C/°F, lock and emissivity.
The locking feature allows for continuous temperature measurement and the emissivity is adjustable so the user can measure a variety of surface types.
An auto-off feature automatically turns off the instrument after 15 seconds, maximizing battery life.
The IR-Pocket infrared incorporates LED spot alignment , which allows the user to precisely target the diameter of the area to be measured.
The LED pointer is safer on the eyes than laser pointers.
As you move closer or further away from the target, the LED spot changes diameter indicating the area to be measured.
The default emissivity is 0.95 but is adjustable to allow temperature measurement of various surface types.
Range: -9.9 to 199.9°C
Resolution: 0.1°C / °F
Accuracy - infrared: ±2.5°C or ±2.5% of the greater value
Measuring cone: target ratio 1:1
Emissivity: 0.95 by default - adjustable from 0.1 to 1.00
Battery: 2 x 1.5 volt AAA
Battery life: 20 hours of continuous use
Display: Custom LCD
Dimensions: 25 x 52 x 100 mm
Weight: 88 grams
Housing material: ABS plastic
Warranty: one year
Measuring scale: Celsius / Fahrenheit
Caractéristiques
Pocket thermometer - in...
Your questions
the most frequent