Référence SKU: 222-215
Regular price
$188.00 USD
Regular price
$188.00 USD
Sale price
Unit price
per
Ideal for calibration comparisons.
One-handed operation.
UKAS 5 points certificate.
0&nbsp produitsen stock
View full details
Informations sur ma livraison
Processing time if product in stock
-
Orders are shipped within one business day.
An order placed on Monday will be shipped on Monday or Tuesday.
An order placed on Friday will be shipped on Friday or Monday
An order placed on Saturday will be shipped on Monday.
Processing time if product not in stock
+
If the products are not in stock, the delay is generally 3 to 4 weeks . We invite you to contact our sales representatives to obtain the exact deadline.
Delivery times of our carriers
+
Relay point : 3 to 5 days of transport.
Standard : 2 to 3 days of transport.
Express : 1 day of transport.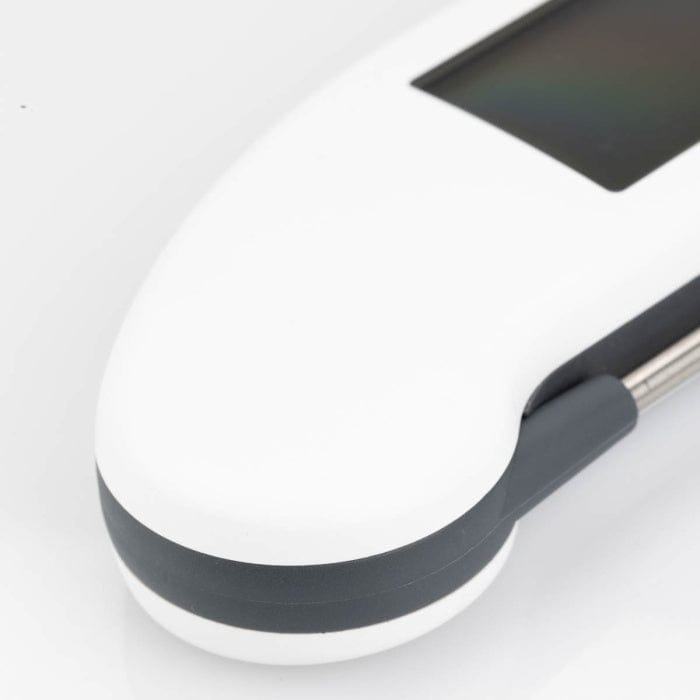 Description du Reference Thermapen® high resolution and h...
The Thermapen® reference calibration thermometer is a instrument PT100 high precision supplied with a UKAS 5 point calibration certificate.

Each certificate indicates deviations from standards at different control points: -18, 0, 40, 70 and 100 °C.

Special points can be certified by arrangement with our UKAS calibration laboratory.

The Thermapen® reference thermometer is ideal for comparing the accuracy of other thermometers and probes, when used in conjunction with a stable temperature heat or cooling source.

The reference Thermapen measures the temperature in the range -69.99 to 199.99°C with a resolution of 0.01°C and an accuracy of ±0.05°C.

The thermometer will automatically turn off after ten minutes, thereby maximizing battery life, this feature can be turned off if not required.

Low battery (icon) and open circuit indication are displayed, if applicable.

Each reference Thermapen® is powered by two lithium button batteries with a minimum lifespan of 1,000 hours.

The Reference Thermapen® incorporates a stainless steel penetration/liquid probe Ø3,3 x 108 mm, Who folds 180 degrees to the side of the instrument when not in use.

Beach : -69.9 to 199.9°C
Resolution : 0,01 °C
Precision : ±0.05°C (-30 to 149.9°C) otherwise ±0.2°C
Pile : 1 x 1,5 volts AAA
Battery life : 500 hours
Sensor type: PT100
Display : LCD with backlight
Dimensions : 19 x 47 x 153 mm
Weight : 97 grammes
Housing material: ABS plastic with Biomaster antibacterial additive
Manufacturing country : United Kingdom
Guarantee : two years
Measuring scale : Celsius/Fahrenheit
Certification : UKAS calibration certificate
To comply with the standard : EN 13485
Caractéristiques
Reference Thermapen® hi...
Your questions
the most frequent