Référence SKU: 228-920
Regular price
$179.00 USD
Regular price
$179.00 USD
Sale price
Unit price
per
Securely transmits data.
Save time, paperless records.
Distance to target diameter ratio 5:1.
FREE traceable calibration certificate.
3&nbsp produits en stock
View full details
Informations sur ma livraison
Processing time if product in stock
-
Orders are shipped within one business day.
An order placed on Monday will be shipped on Monday or Tuesday.
An order placed on Friday will be shipped on Friday or Monday
An order placed on Saturday will be shipped on Monday.
Processing time if product not in stock
+
If the products are not in stock, the delay is generally 3 to 4 weeks . We invite you to contact our sales representatives to obtain the exact deadline.
Delivery times of our carriers
+
Relay point : 3 to 5 days of transport.
Standard : 2 to 3 days of transport.
Express : 1 day of transport.
Description du blue RayTemp infrared thermometer
The RayTemp Blue non-contact infrared thermometer incorporates many of the features of the Raytemp 2, but with Bluetooth wireless technology .
Measures temperature over the range of -49.9 to 349.9°C . It features a large, easy-to-read LCD display with low battery indication and an auto power off function.

À télécharger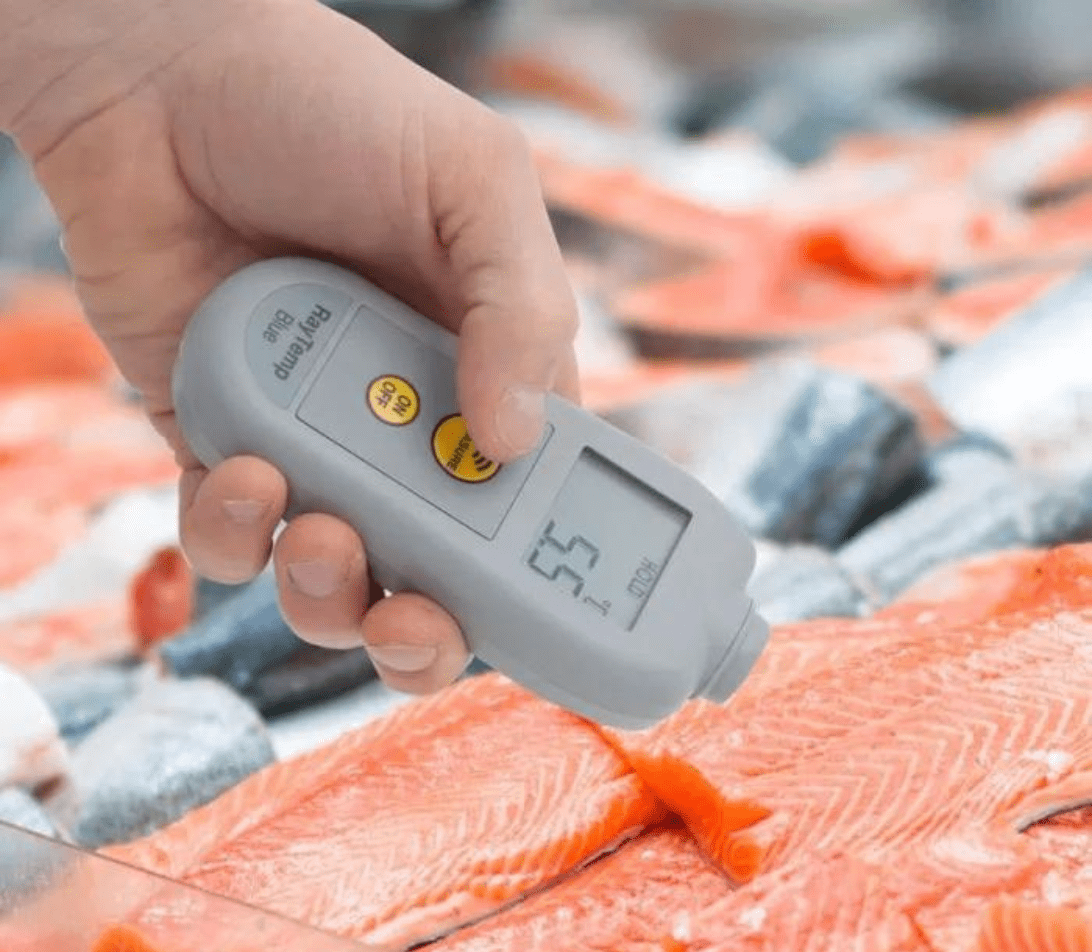 Caractéristiques
Range: -49.9 to 349.9°C
Resolution: 0.1°C/°F user selectable
Accuracy: ±1°C (0 to 100°C) otherwise ±2°C or ±2% of reading, whichever is greater
Measuring cone: target ratio 5:1
Emissivity: 0.95 by default - adjustable from 0.01 to 1
Bluetooth module: Bluetooth LE
Battery: 3 1.5 volt AAA batteries
Battery life: 3000 hours
Display: 12mm LCD
Dimensions: 25 x 56 x 128 mm
Weight: 140 grams
Warranty: two years
Measure
temperature
by pressing
Accuracy to
±1°C
(0 to 99.9°C)
Guarantee
2 years
and calibration certificate
traceable FREE
Report
optics of
5:1
Bluetooth range
secure up to
50 meters
Technology
BioMaster
which reduces the
bacterial growth
Simply connect to your host device (iOS or Android), press and hold the measurement button and point the thermometer at the target to display surface temperature and securely transmit data over a secure connection up to 50 meters away.
The unit incorporates a 5:1 optical ratio (distance to target diameter ratio) and therefore the thermometer should be positioned as close to the target as possible .
The default emissivity is 0.95 but can be changed from 0.1 to 1, if necessary.
The unit does not incorporate laser alignment , this encourages the user to move closer to the object being measured. Ideal in an environment where precision is important.
The RayTemp Blue infrared thermometer features a large, easy-to-read LCD display with low battery indication and an auto power-off feature that turns off the instrument after 10 minutes, maximizing battery life.
blue RayTemp infrared t...
Your questions
the most frequent