Référence SKU: 810-041
Regular price
$54.00 USD
Sale price
Unit price
per
Temperature reading in 5 seconds.
Includes backlight and calibration function.
Designed for commercial kitchens.
Adjustable 92 dB audible alarm.
0 &nbsp produitsen stock
View full details
Informations sur ma livraison
Processing time if product in stock
-
Orders are shipped within one business day.
An order placed on Monday will be shipped on Monday or Tuesday.
An order placed on Friday will be shipped on Friday or Monday
An order placed on Saturday will be shipped on Monday.
Processing time if product not in stock
+
If the products are not in stock, the delay is generally 3 to 4 weeks . We invite you to contact our sales representatives to obtain the exact deadline.
Delivery times of our carriers
+
Relay point : 3 to 5 days of transport.
Standard : 2 to 3 days of transport.
Express : 1 day of transport.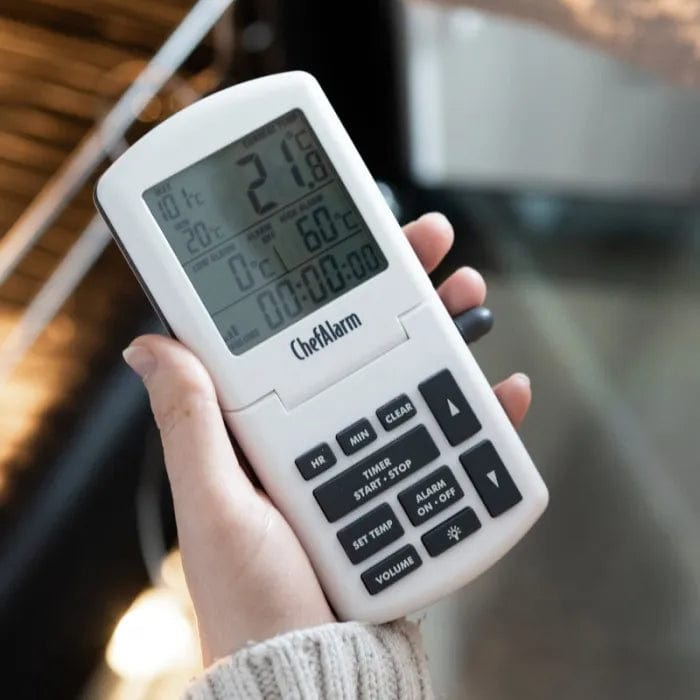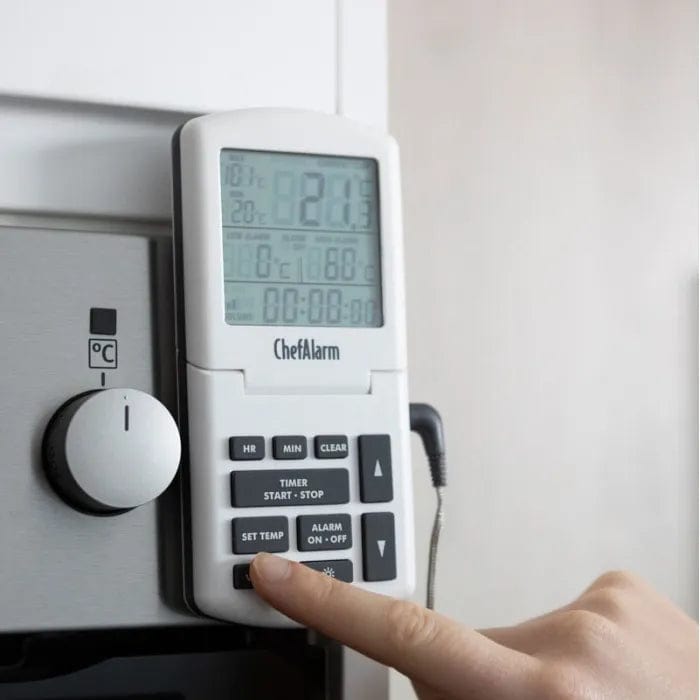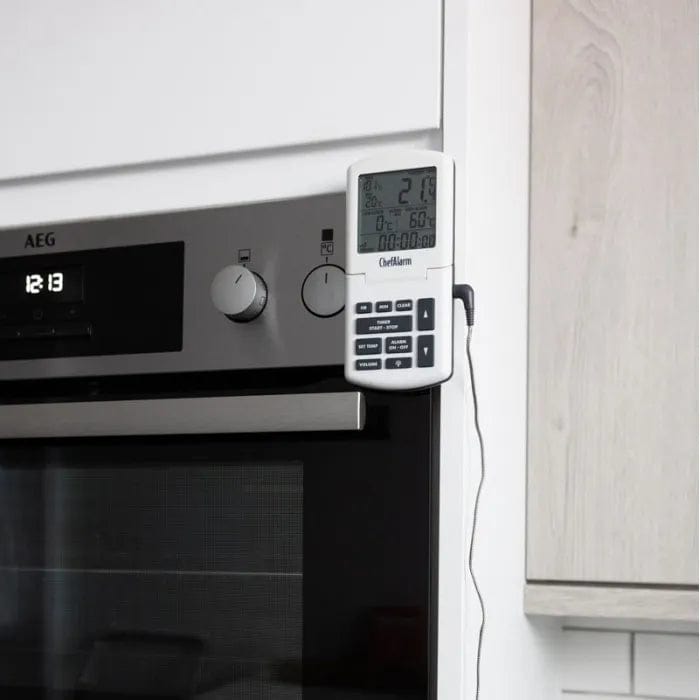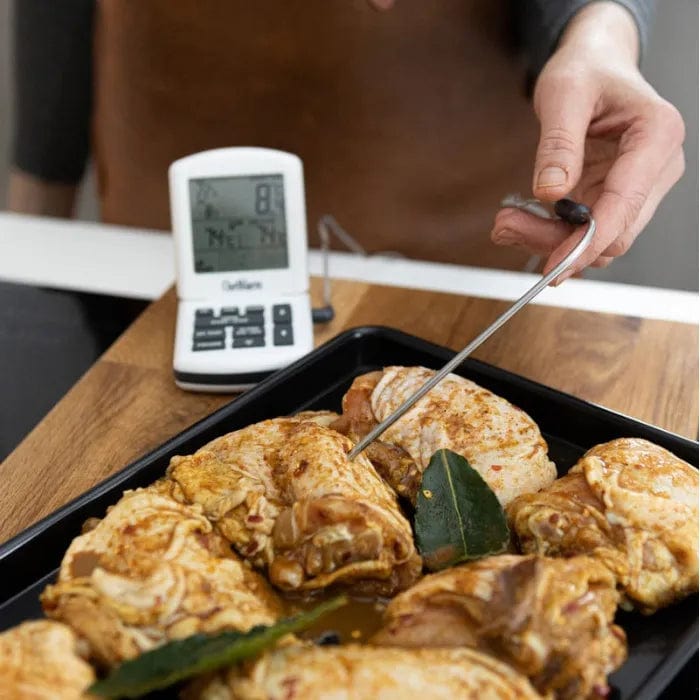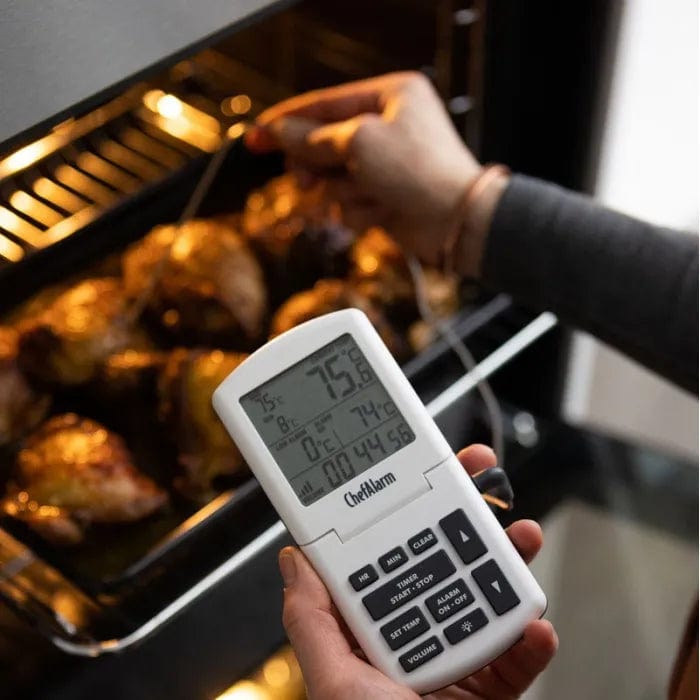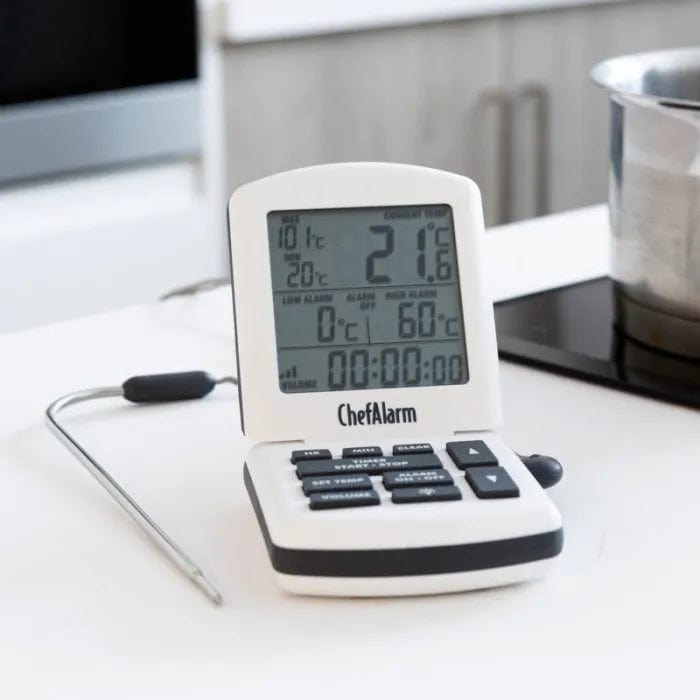 Description du ChefAlarm Thermometer and Timer
The ChefAlarm Thermometer and Timer is a professional cooking thermometer and also a countdown timer that displays countdown/time, current temperature and simultaneously displays high/low alarms and max/min temperatures.
The timer is fully programmable , therefore allowing the user to set the countdown time to/from 99 hours and 59 minutes.
Caractéristiques
Range: -50 to 300°C
Resolution: 0.1°C / °F
Accuracy: ±1°C (-20 to 120°C), ±2°C between –50 to -20 and 120 to 200°C, ±3°C between 200 to 300°C
Battery: 2 x 1.5 volt AAA
Battery life: 5000 hours
Alarm volume: 92bB
Sensor type: thermistor
Display: Custom LCD
Dimensions: 19 x 70 x 152 mm
Weight: 165 grams
Housing: ABS plastic
Warranty: one year
Water/dust resistance: IP 65 protection
Measuring scale: Celsius / Fahrenheit
Timer: count and count down


Measure
temperature
in 5 seconds
Accuracy to ±1°C
(-19.9 to 119.9°C)
Guarantee
1 year with calibration function


Audible alarm adjustable up to
92dB
Several types of
probes available
in stock
Easy alarm setting
Mini/Maxi
ChefAlarm Thermometer a...
Your questions
the most frequent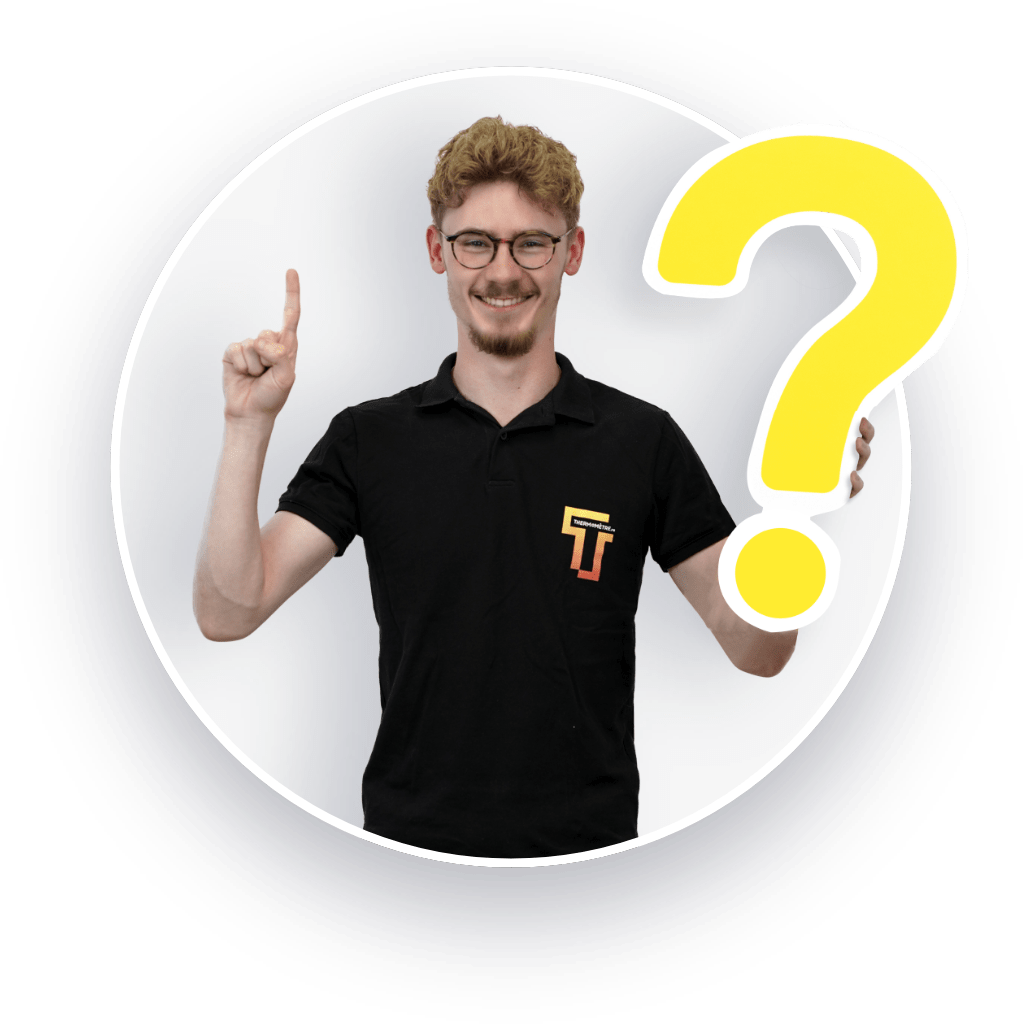 Le haut de gamme
J'ai eu plusieurs thermomètres et sondes de cuisson, mais le ChefAlarm est vraiment parfait. Simple d'utilisation, ergonomique et la mini sonde pour la cuisson sous vide est très bien également. Bref, je conseille vivement.
Trés satisfait
Ayant commis une erreur de référence lors de la commande d'un sonde pour sous vide, j'en ai avisé la société Thermomètre.fr qui m'a proposé une solution dés réception de mon mail.
J'ai testé l'appareil, il répond à 100% à mes besoins.
Très bon produit, fiable et très utile
Hey Alain!
Merci beaucoup pour votre superbe évaluation de notre Thermomètre et minuterie ChefAlarm! Nous sommes ravis de savoir que vous trouvez notre produit fiable et utile. C'est exactement ce que nous visons à fournir à nos clients.
Bien à vous,
L'équipe Support Thermomètre.fr
Top
Meilleur prix sur ce site, livraison sérieuse et rapide.
C est le 2 ème que je prend en 5 ans, car le 1er avait fini par s abimer(tactile défectueux et la sonde ne se connectait plus)rien de surprenant car je l utilisais tous les jours pour mon restaurant en martinique.Ce thermometre est vraiment précis, la sonde sous vide est un vrai plus et est vraiment solide(une seule sonde en 5 ans).L accroche magnétique permet de le fixer sur la paroi du four, alarme, minuteur,réglage minimum maximum de la température souhaitée, le tout bien lisible grâce au rétro éclairage...vraiment un très bon outil professionnel au trés bon rapport qualité prix .Merci
Salut Maxime!
Merci beaucoup pour cette superbe évaluation de notre Thermomètre et minuterie ChefAlarm! Nous sommes ravis de savoir que vous trouvez notre produit précis et robuste pour une utilisation professionnelle en restauration.
Nous sommes également heureux d'entendre que vous avez bénéficié d'un excellent rapport qualité-prix et d'une livraison rapide sur notre site. Nous faisons toujours de notre mieux pour offrir des prix compétitifs et un service rapide et fiable à nos clients.
Bien à vous,
L'équipe Support Thermomètre.fr