Référence SKU: 226-511
Regular price
$83.00 USD
Sale price
Unit price
per
Single or dual external sensors.
Programmable audible alarms.
Records max/min temperature.
0&nbsp produitsen stock
View full details
Informations sur ma livraison
Processing time if product in stock
-
Orders are shipped within one business day.
An order placed on Monday will be shipped on Monday or Tuesday.
An order placed on Friday will be shipped on Friday or Monday
An order placed on Saturday will be shipped on Monday.
Processing time if product not in stock
+
If the products are not in stock, the delay is generally 3 to 4 weeks . We invite you to contact our sales representatives to obtain the exact deadline.
Delivery times of our carriers
+
Relay point : 3 to 5 days of transport.
Standard : 2 to 3 days of transport.
Express : 1 day of transport.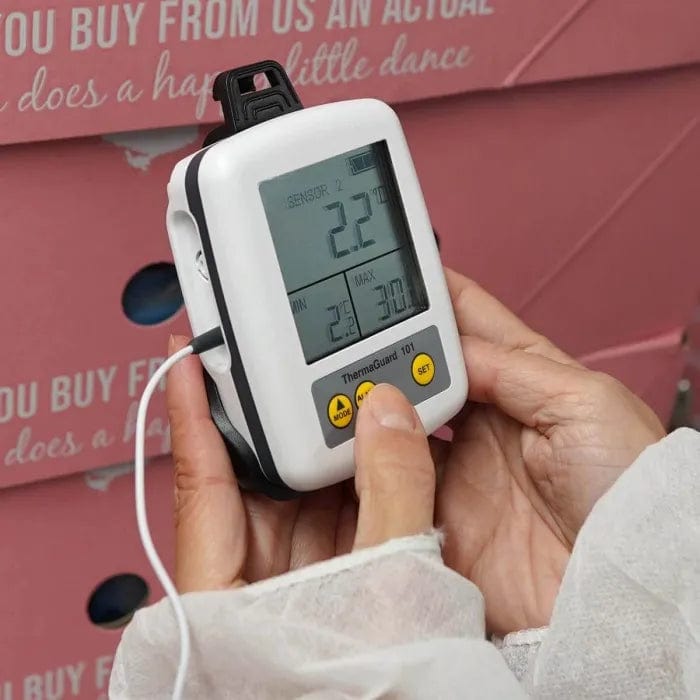 Description du Thermometer ThermaGuard Refrigerator Tempe...
TECHNICAL DATA
The ThermaGuard thermometer is a high-precision refrigerator-freezer thermometer that is available in two models for different sensor needs.
Essential for food safety , the max/min, alarm and CalCheck functions make this model an excellent option for HACCP compliance.
The internal sensor (model 101 only) measures temperature over the range of -19.9 to 49.9°C , while the external sensors measure over the range of -39.9 to 49.9°C , both have an accuracy of ±0.4°C and a resolution of 0.1°C/°F.
With a battery life of 25,000 hours (normal use, without alarm), the 1.5 volt AA batteries will only need to be changed every 34 months.
The digital refrigerator thermometer features a large LCD screen that displays current and max/min recorded temperatures simultaneously.
Both models also feature programmable alarms to give you an audible warning if the temperature of your refrigerator or freezer falls outside of the safe temperatures you set.
Each ThermaGuard is housed in an IP54 splash-proof ABS enclosure which includes Biomaster antimicrobial technology which reduces bacterial growth, ideal for monitoring chilled and frozen foods.
A UKAS two-point calibration certificate (-18.0°C) is available as an option.
Each certificate indicates deviations from the standards at -18 and 0 ° C.
Two models available

ThermaGuard 101 includes two temperature sensors; a water-resistant remote temperature probe with a 1 meter PVC cable to monitor the device temperature and an internal probe for ambient temperature.
ThermaGuard 102 includes two remote water-resistant probes , both with one meter PVC cables to monitor two devices.
Each remote probe can be mounted to the internal wall of the refrigerator using the small ABS plastic mounting bracket provided.
CalCheck function

Both ThermaGuard models feature a CalCheck 0.0°C (±0.1°C) feature that allows the user to check the thermometer's accuracy at any time , ensuring measurements are accurate.
Wall mount

Plastic wall mount that includes a built-in leg, hook for hanging and thread for tripod mounting, allowing users to store or position the device safely, securely and protect against accidental damage.
Internal range: -19.9 to 49.9°C (model 101 only)
External range: -39.9 to 49.9°C
Resolution: 0.1°C/°F
Accuracy: ±0.4°C
Battery: 2 x 1.5 volt AA
Battery life: 25,000 hours (normal use, without alarm)
Sensor type: thermistor
Display: Custom LCD
Dimensions: 29 x 73 x 96 mm
Weight: 165 grams
Warranty: two years
Certification: UKAS calibration certificate available as an option
Complies with standard: EN 13485
Caractéristiques
Thermometer ThermaGuard...
Your questions
the most frequent